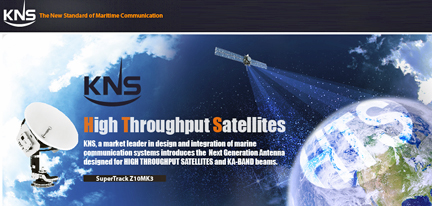 [SatNews] KNS, Inc. has launched its satellite antenna X10MK3 SuperTrack X-Series for ships requiring high speed broadband offshore.
Commenting on the launch of the X10MK3, Director Noah Chung, said, "Our R&D team has built an antenna with sturdiness and reliability in mind, for the harshest of environments. The antenna has been ruggedly engineered to support the toughest, highest usage the military require 24/7. No other satellite antenna in the market currently has this level of functionality and high level of durability".

The antenna comes with a built in shock absorber to allow flexibility during rough seas, a wire rope isolator to protect the antenna and electronics, and a high power rotary joint increases overall performance. Other standard features include a web interface and remote software upgrade, and for simplicity the Motor Drive, RF, control module and PCU are integrated into one module. There is also an Automatic Satellite Search, Skew control, unlimited Azimuth and a brake system. The accurate signal acquisition is controlled by KNS's high performance algorithm with a pre-programmed satellite database and 80 editable satellite data. There are 3 types of gyro input: NMEA, Synchro and step by step, and an antenna control unit.
For further information, head over to the KNS infosite at http://www.kns-kr.com/