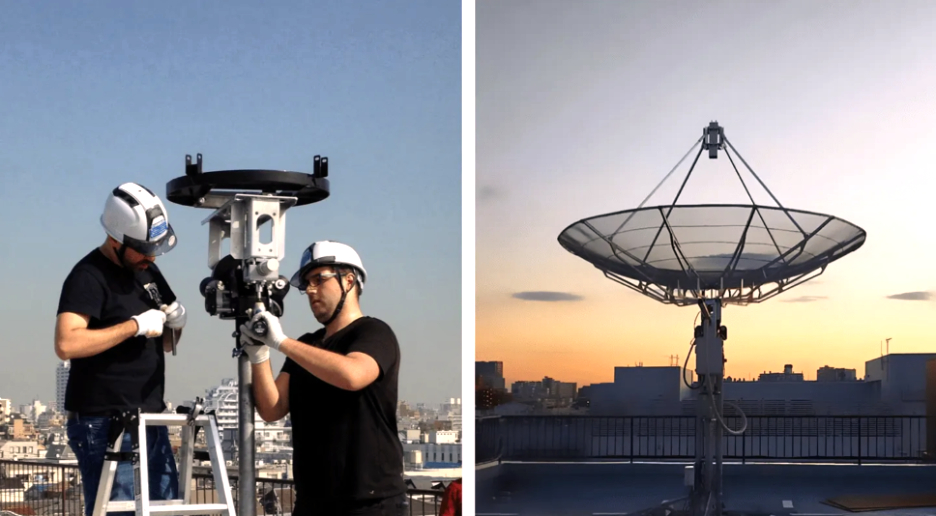 Infostellar, a ground-segment-as-a-service (GSaaS) provider, has raised a total of $3.5 million in convertible bonds with existing investors Airbus Ventures and Sony Innovation Fund, while welcoming new investors Daiwa Energy Infrastructure, Mitsubishi UFJ Capital, and Mitsubishi UFJ Lease & Finance — as a result, the cumulative amount of funds raised now reaches $11.5 million.
Infostellar is continuing to raise additional funds, and this round is scheduled to be closed by June 2020.
Since the last funding round in July 2017, Infostellar has developed StellarStation, a ground station platform for flexible and scalable satellite operations, and has verified the feasibility of satellite communication through sharing ground stations. The company has provided several satellite operators with an average of 500 passes per month through StellarStation. In addition, the firm has contracts with ground station owners in several countries around the world, including government owned ground stations. The total number of ground stations on the growing StellarStation network is 13. Left image - Two Infostellar engineers working on a ground station in Tokyo Right image - Infostellar's ground station site in Tokyo, Japan.
The purpose of this finance round is to accelerate Infostellar's business activities, specifically to hire business development and sales personnel and to strengthen Infostellar management. The company will continue to develop business activities throughout Europe and Asia and provide satellite operators with a more flexible and expandable ground station network for full global deployment.
With this finance round, new investment was received from operating companies including Daiwa Energy Infrastructure and Mitsubishi UFJ Lease & Finance, who can also provide customers key financial solutions.
The sharing of the non-operating or 'idle' time of existing ground stations, which Infostellar has pioneered as part of the StellarStation network, is recognized by many satellite operators as an important and flexible asset for initial operations, backup, demonstrations of technology and business models, and added responsiveness for sudden demand.
InfoStellar has also seen an increasing demand from some satellite operators to reserve more passes, or satellite ground communication opportunities, in bulk. In order to continuously meet such demand, the company is exploring initiatives to flexibly expand the ground station network through cooperation with Daiwa Energy Infrastructure, Mitsubishi UFJ Lease & Finance, and existing ground station partners.
Lewis Pinault, Partner, Airbus Ventures, said the company is proud to lead this new round of financing for Infostellar. With it and together with new and existing investors, the firm is confident that the team can grow and scale to meet critical global demand for their extraordinarily innovative, secure cloud-based ground stations platform. Bringing operations and business advantages to satellite operators and antenna owners alike, Infostellar's now fully-demonstrated unique functionalities also bring near-real-time data and command capabilities a big and important step closer, which Airbus already see attracting key customers worldwide.
Gen Tsuchikawa, Chief Investment Officer, Sony Innovation Fund (Sony Corp.), added that the Infostellar team is a rare combination of exceptional software engineering with a unique approach of resource-sharing in the space industry. They have made great strides in both research and technology, which will help bring their cutting-edge innovation to the market. Sony is confident that Infostellar will offer breakthrough solutions for many satellite operations and ground station providers across the global market.
Takuya Tanoue, Executive Director, Daiwa Energy & Infrastructure Co. Ltd., noted that Infostellar has a unique and competitive business model in the space industry and has already developed/installed the antenna sharing platform for orbiting satellites that incorporates a superior GUI and API. Daiwa will provide the continuous support and cooperation for Infostellar to further strengthen the platform connecting orbiting satellites and ground stations which are expected to increase over the long term, and wish to meet the diversifying demands of ground stations and satellite operators.
Takayuki Shimizu, Executive Officer & General Manager, Investment Dept. No. 3, Mitsubishi UFJ Capital Co., Ltd., commented that Infostellar is engaged in a business with a very unique and definite need to develop a ground station antenna sharing service for satellite operators. Using the strengths as a member of MUFG, and as a supporter for further growth of Infostellar, Mitsubishi UFJ Capital Co.,Ltd, will help Infostellar, who is at the stage of stepping up, to make a big difference as a global company.