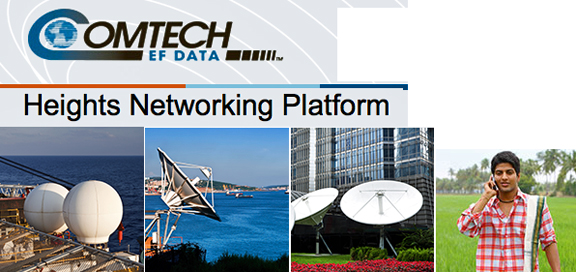 [SatNews] Comtech EF Data Corp. announces the company has been awarded two separate contracts for its recently released Heights Networking Platform.
The newest platform solution from Comtech EF Data will furnish service providers in two distinctly different vertical markets with the unique blend of horsepower, efficiency and intelligence to enable them to grow their businesses and maximize their customers' Quality of Experience.
A mobile network operator in Southeast Asia will leverage the Heights Networking Platform to increase its addressable market and offer new services to its end user base by cost-effectively backhauling 3G mobile traffic from geographically dispersed rural fixed sites and vessels into its core network. Through maximum net efficiency of the satellite links teamed with flexible, dynamic bandwidth sharing, the operator is able to offer affordable solutions with heightened levels of service to provide its users with the full 3G broadband experience. This includes the ability to support up to 8 Mbps in the inbound direction with the underlying packet processing capabilities to support these demanding throughputs teamed with the robust intelligence to properly handle 3G protocols.
Also, the Heights Networking Platform was selected by an Asian service provider in the energy sector to replace an existing platform that could no longer meet the growing demands of its end users, who relied upon the network to connect remote mining outposts back to company headquarters. Comtech EF Data won this competitive tender by offering a solution that best supported the customer's application mix, which included enterprise traffic and high resolution video from the remote sites. Through higher order modulation and coding, bi-directional Adaptive Coding and Modulation (ACM), header and payload compression, and flexible dynamic SCPC, the Heights solution offered the highest throughput capabilities with the best spectral efficiencies and resulting upgrade project economics.
Executive Comment
Steve Good, Vice President, Marketing, said, "Heights was designed with the service provider in mind, enabling differentiation across different verticals, from 3G/4G mobile backhaul to the corporate enterprise, to oil and gas and cruise and cargo applications."