[Satnews] Cobham SATCOM has launched two new SAILOR satellite navigation receivers.
Both the SAILOR 656X GNSS (Global Navigation Satellite System) and new SAILOR 657X DGNSS (Differential Global Navigation Satellite System) are black-box products designed to be part of an innovative eco-system Cobham SATCOM refers to as its 'Multi-Function Universe'.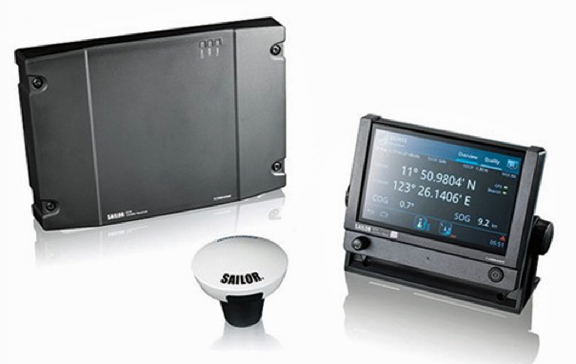 The advanced touch-screen SAILOR 6004 Control Panel forms the heart of the Multi-Function Universe, providing full control for all products connected to it from a single device. The SAILOR 656X GNSS and SAILOR 657X DGNSS join the already available SAILOR 6391 Navtex and SAILOR 628X AIS as new generation SAILOR products designed to work with the SAILOR 6004 Control Panel. Operation of all systems connected to the SAILOR 6004 Control Panel is easy; just select the icon for the product as you would an app on any touch-screen device, to be given full control of all set-up, functions and diagnostics.
The SAILOR 656X GNSS and the SAILOR 657X DGNSS collect satellite data from any available navigation satellites including GPS and GLONASS and distribute it to a variety of on board systems such as; ECDIS (Electronic Chart Display System), INS (Integrated Navigation System), GMDSS (Global Maritime Distress & Safety System), SATCOM (Satellite Communication System), MCS (Master Clock Systems) and PABX (Telephone Exchanges).
Cobham SATCOM offers four variants of its new satellite navigation products, all of which are designed 100% in-house. The SAILOR 6560 GNSS System and SAILOR 6570 DGNSS System are delivered with the SAILOR 6004 Control Panel and the corresponding SAILOR 6285 GNSS Antenna or SAILOR 6286 DGNSS Antenna, while the SAILOR 6561 GNSS Basic and SAILOR 6571 DGNSS Basic are delivered with the antennas only.
All four variants use the same proprietary SAILOR 6588 DGNSS Receiver, which provides highly accurate data, enhanced by means of Satellite Based Augmentation System (SBAS) from various areas including WAAS (Wide Area Augmentation System) for the United States, EGNOS (European Geostationary Navigation Overlay Service) in Europe in addition to systems from Japan, India and Russia. The SAILOR 6285 GNSS Antenna and SAILOR 6286 DGNSS Antenna are also both new, designed and manufactured according to Cobham SATCOM's highly regarded quality standards.
Executive Comment
"The Multi-Function Universe approach means that a variety of products can all be accessed from a single screen on the bridge and anywhere else a repeater is needed, making installation far more flexible than with traditional products that all require their own screen. The approach also saves space on the bridge, and importantly, makes the life of maintenance engineers easier as they have a single point of entry to the network," said Claus Hornbech, Business Manager, Cobham SATCOM.
"The accuracy and availability of satellite positioning and timing data is vital to vessel safety as so many critical navigation and communication systems rely on it to operate," said Jan Kragh Michelsen, VP Maritime Business Development, Cobham SATCOM. "All elements, from the black-box to the antennas, multi-function display and the user-interface of the systems are new and developed 100 percent in-house at Cobham SATCOM, so customers can be confident in the reliability of our new GNSS and DGNSS products, in addition to our revolutionary Multi-Function Universe operating concept."