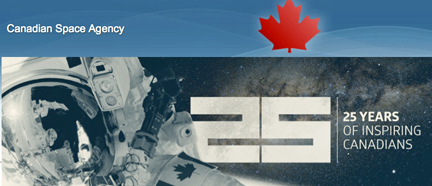 [SatNews] The Canadian Space Agency (CSA) will help Canadian industry develop new applications and novel concepts that will capitalize on the use of Earth Observation (EO) data acquired by the CSA.

This will be accomplished through nine contribution agreements that will support Research and Development (R&D) in the field of space technologies. This initiative will also build capacity in Canadian industry and increase the use of radar data, to serve various sectors of the economy. This is a joint venture between the Canadian Government and private industry, as each project selected will receive funding of less than $100,000 while the company is to cover at least 25 percent of the total project value. The R&D conducted will seek to address Canada's domestic needs in areas such as; security, maritime surveillance, agriculture, environmental protection, river and ice cover monitoring and land movement.

In the newly issued Canada's Space Policy Framework, the Canadian Government underlines the fact that space yields more commercial opportunities than ever. "Positioning the Private Sector at the Forefront of Space Activities" and "Developing and maintaining Excellence in Key Capabilities" have been identified as two of its core principles. This initiative embodies the spirit of the Space Policy Framework.

The Contribution Agreements were awarded following an Announcement of Opportunity (AO) issued in November 2013
This Announcement of Opportunity was issued by the CSA's Earth Observation Applications Development Program
The CSA received a total of 11 eligible proposals from Canadian industry
Each Contribution Agreement is valid for a period of 18 months
The Canadian Space Agency infosite may be accessed at http://www.asc-csa.gc.ca/