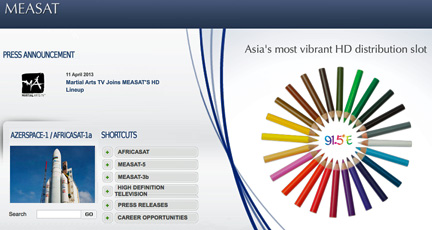 [SatNews] MEASAT Satellite Systems Sdn. Bhd. ("MEASAT") and Telered Technologies & Services Corp. ("Telered") has an agreement for capacity on the MEASAT-3a satellite.
Under the terms of the agreement, Telered will use MEASAT-3a for the distribution of the Viva TV and Pinoy Box Office (PBO) channels across the Philippines. The agreement also contains on option for additional capacity to support Telered's planned future expansion of video distribution services in the Philippines market.
"Telered is excited to embark upon the next stage of its growth plans," said Redentor Laset, President, Telered. "With this capacity, we will be able to serve local and regional programmers for their local distribution requirements. Our decision to enter into partnership with MEASAT was also on account of their ability to provide a flexible working approach customized to our requirement," he added.
"MEASAT is pleased to support Telered's plans to provide new distribution channels and playout services to the Philippines market," said Raj Malik, Senior Vice President – Sales & Marketing, MEASAT. "We look forward to continue supporting Telered's expansion plans and carry exciting new content to audiences across the Philippines."
The Telered infosite is located at: http://www.telered.com.ph/
For additional information regarding MEASAT, access: http://www.measat.com/