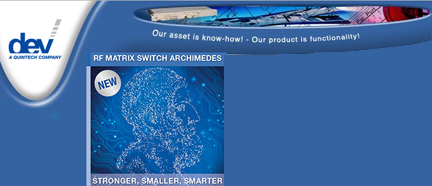 [SatNews] DEV is showcasing ARCHIMEDES, the new development of DEV for RF Matrix Switching, at IBC 2014 on stand 1.B31.
Brand new and the benchmark in performance, size and price, ARCHIMEDES is stronger than all other RF Matrices in regard to the RF performance such as variable gain and tilt, DC insertion, local user interface and many other technical parameters. The unit is smaller as it hosts 64 x 64 in 4 RU only. There are many unique features and redundancy options plus the product is 40 percent lower in price than former DEV matrices.
The L-band Distributing Matrix ARCHIMEDES (DEV 1986) is built in a high density 4 RU chassis. Its high degree of reliability constitutes the core of the customers system. Optical inputs, unique redundancy options for inputs, outputs and controller and many more features offer as much flexibility and reliability as is possible on today's market. ARCHIMEDES can be obtained in standard configurations of 32x32, 32x64, 64x32 or 64x64 and can easily be upgraded to 64 x 64 in increments of 8.
With the LNB power option, each RF input port is capable of delivering LNB power as well in the selection of polarity and the band of the LNB. In addition, the matrix provides an integrated TV Receiver that is operated via unit's the multi-touch display. Each input signal can be routed to the TV-Receiver, which is capable to playingunprotected content.
For further details, please visit the DEV Systemtechnik infosite at http://www.dev-systemtechnik.com/