[SatNews] Thaicom has become the first in the Asia Pacific (APAC) region to introduce commercial In-Flight Connectivity Services using Ku-band to provide broadband on commercial flights.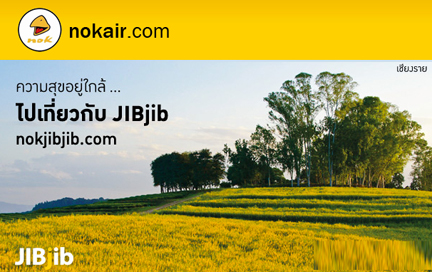 The deal has been agreed to with Thailand's number one premium low cost airline, Nok Air, which last year transported nearly six million passengers. With 48,000 flights per year, the carrier will provide broadband Wi-Fi services on many of its aircraft starting in August, ranging from Internet access to other complimentary services being offered in the future. The announcement comes as Thaicom launches its "New Frontiers" campaign, which will see it expand its focus to include end-to-end SATCOM mobility services for air, land, and sea vehicles. The company already has a strong pioneering history and is looking to the future with two new satellite launches planned before 2016, an extension of its target geography to include Africa and a host of yet-to-be-announced new industry partnerships and acquisitions.

Suphajee Suthumpun, Chairman of the Executive Committee and CEO, Thaicom Public Company Limited, said:,"This is a milestone and the first of many announcements for our exciting New Frontiers campaign, which is aimed at serving the industry and our customers better. We are delighted to launch the IFC with Nok Air, which should be beneficial for domestic as well as international passengers on board Nok Air's flights."

The Thaicom In-Flight Connectivity (IFC) broadband service, with its partner Global Eagle Entertainment/Row44, will in this case be implemented as a value added service for Nok Air passengers to enhance their experience by giving access to broadband combined with video content. The service is capable of delivering 3G-like speed for a superior in-flight broadband experience. The expansion plan shall further include the Asian region with in-flight connectivity services provided through Thaicom broadband.

Mr. Patee Sarasin, Chief Executive Officer of Nok Airlines Plc, said, "Nok Air is adding in-flight WiFi to our existing complimentary services to increase the appeal to passengers, particularly the new generation who insist on connectivity. The introduction of in-flight WiFi is consistent with the airline's drive to be innovative, as it has already offered free broadband connection at airport boarding gates. The in-flight Wi-Fi connection quality will meet users' expectations and the service will be initially available on domestic flights, which constitute the bulk of Nok Air's operations. We are always looking at ways to improve customer experience and are glad to be partnering with Thaicom to achieve this."

Please visit http://www.thaicom.net/ for more information. Thaicom is also present at CommunicAsia2014 at the Marina Bay Sands in Singapore in Hall C at Booth 1P2-07.
The Nok Air infosite is located at http://www.nokair.com/