In the "Test, Quality Control and Monitoring" category at the 2016 IABM Design & Innovation Awards, Bridge Technologies comes out of the event a winner, thanks to their VB440-V virtual probe that was selected by the judges for this award.
The award was announced at IABM's awards reception and ceremony on September 10th during IBC2016. The judges stated that the product allows visibility into sophisticated network infrastructure, thereby solving one of the biggest issues for those trying to diagnose and fix complex network issues in a timely fashion.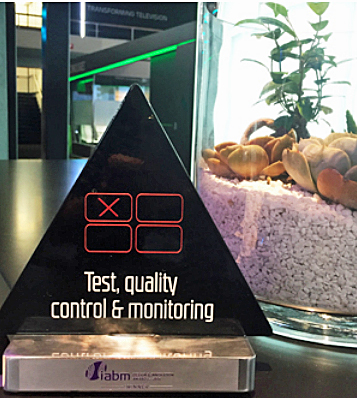 The VB440-V virtual probe monitors high density data traffic in core broadcasting networks, production studios, outside broadcast and master control centers, enabling users to quickly rectify problems affecting quality. This is the first product of this type to become available that addresses two issues of significant concern to broadcasters: the transition to higher Ethernet speeds— it supports dual 40 Gigabit Ethernet interfaces—and the need to support SDIoIP. The VB440-V is also the first product to feature SMPTE2022.7 dual redundant stream analysis.
The VB440-V takes the proven architecture of the Bridge Technologies VB330-V and adds support for dual 40 Gigabit Ethernet interfaces, together with SDIoIP. It is a virtual probe, and can be mixed and matched with hardware probes (to which it appears identical) according to customer requirements and configuration. Developed for data center deployment, the product can be installed almost instantly on any standard high-performance server blade to allow rapid scaling of capacity. Through its EII (External Integration Interface), the VB440-V can be integrated with third-party management and data systems.
Simen K. Frostad, the Chairman of Bridge Technologies, recounted that the VB440-V provides a cost-effective way forward for network operators to migrate to higher speed interconnects and to also ease the migration to IP via support for SDIoIP. This is a vital tool that can enable and support the industry in its transition to a high speed, IP-centric future.

IABM is the international trade association for suppliers of broadcast and media technology, and facilitates the important networking and interaction between suppliers that shape and define the unique ecosystem of the broadcast and media technology industry. Judging of the 2016 IABM Design & Innovation Awards was carried out by a panel of 40 independent, highly experienced industry professionals, each with specialist expertise in one or more of the award categories, chaired by John Ive, IABM Director of Technology and Strategic Insight.

www.bridgetech.tv