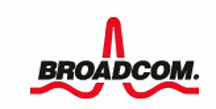 [SatNews] Broadcom Corporation (NASDAQ: BRCM) has announced the world's first family of eight new hybrid satellite and terrestrial system-on-a-chip (SoC) broadcast devices for set-top boxes (STBs).
The new series is engineered with pin-to-pin compatibility, allowing a single set-top design to be leveraged across the entire family. Broadcom will demonstrate the chips at IBC, September 12-16, RAI Amsterdam, Booth 2.C25.
The new series brings Broadcom's high efficiency video compression (HEVC) technology to terrestrial markets, enabling broadcasters to utilize spectrum more efficiently than with current MPEG-4 video compression standards. As a result, broadcasters gain options to deliver more competitive channel line-ups and improved content quality through the same or lower spectrum footprint. Broadcom's new family of devices also combines HEVC with the advanced modulation efficiencies of DVB-S2, DVB-T2, ISDB-T and ATSC, and high-performance IP connectivity with MoCA 2.0. This unprecedented level of integration provides set-top manufacturers with a compelling value proposition for broadcasters as they continue service upgrades.
"The combination of satellite and terrestrial front-ends that this family offers now provides significant benefits to viewers who want the best channel and content selection available," said Rich Nelson, Broadcom Senior Vice President of Marketing, Broadband & Connectivity Group. "We believe HEVC will continue to be a key driver for the delivery of high-quality content. Today's announcement demonstrates our commitment to our customers to proliferate HEVC broadly across our set-top box product family."
"Broadcasters and regulators throughout Europe and in emerging regions, including Africa, are waiting for the arrival of DVB-T2 with HEVC to launch or extend HD terrestrial services. In addition, we expect the ability to deliver hybrid IP-services using HEVC will benefit broadcasters launching premium add-on services, including some delivered over bandwidth-constrained cellular networks," said Sam Rosen, ABI Research Practice Director. "In addition to allowing the next generation of services, Broadcom's integration of HEVC in terrestrial, satellite and cable chipsets provides broadcasters with a future-proof to ensure the set-top boxes they deploy today will provide value through 2020 and beyond."
Key Features of Broadcom's Hybrid DBS/Terrestrial Device Family
DVB-S2 compliant
Integrated DBS Full Band Capture (FBC) front-end receiver
Single FBC tuner and one to two DVB-S2 demodulators
Compliant with digital terrestrial standards, including:
ISDB-T (Brazil, Latin America, the Philippines, Botswana and Japan)
ATSC (North America and Korea)
DVB-T2 for hybrid STB access (Europe and South Africa)
Integrated MoCA 2.0
HDMI 2.0 and component output
B15 ARMv7-CPU, 5K DMIPS (BCM7364) and 2K DMIPS (BCM73649)
HEVC decode 1080p60 (10bit) with 4K-x-2Kp60 upscale
OpenGL ES 2.0 Graphics Engine
Full pin- and software-compatible product family
More information is available at the Broadcom infosite: http://www.broadcom.com