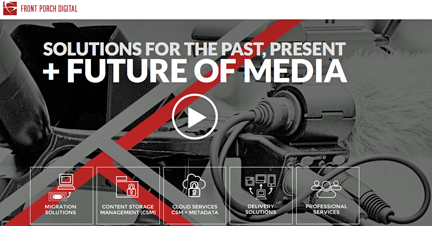 [SatNews] Front Porch Digital will be presenting their wares at the upcoming BroadcastAsia2014, held in Singapore, on stand 5B2-02.
Andy Hurt, the company's vice president of product management and marketing at Front Porch Digital, will participate in a session titled "How to Streamline Production Workflow Operations and Facilitate Media Exchange Using Cloud." The session takes place on June 19th at 3:50 p.m. as part of Track T4: File-based Workflow and Asset Management/Cloud Broadcasting.
The company's featured products at BroadcastAsia2014 include...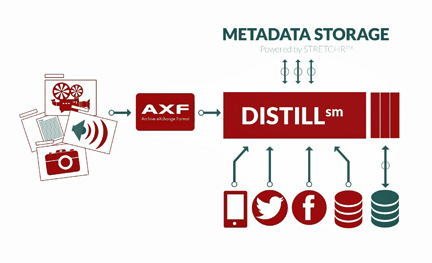 New DISTILLSM — Metadata Management System—At BroadcastAsia2014, Front Porch Digital will demonstrate DISTILLSM, its new metadata management system that eliminates the cost and confusion of managing metadata and associated standardization. Industry sources estimate that less than 5 percent of metadata created in production remains available for the full lifecycle of the content, with most being lost as the video asset is moved, transcoded, and monetized repeatedly. DISTILL makes it simple to capture, process, manage, and retrieve that critical metadata, ensuring that almost any metadata created at any stage of the content lifecycle can now be easily and effectively managed. Representing an entirely new approach to metadata management that meets the exceptionally difficult design goals of integration, flexibility, and simplicity, DISTILL allows media professionals to work with the tools they prefer while ensuring that any user with the proper permissions can leverage critical metadata wherever and whenever they need it. DISTILL is designed to insert into digital workflows, where it makes use of the on-demand partial object restore capability of the Front Porch Digital DIVArchive® content storage management (CSM) system and its cloud-based counterpart, LYNXSM, to enable the specific retrieval of the original artifact from any connected Front Porch Digital system. Robust SDKs from Stretchr, which is closely integrated with LYNX, ease integration of the metadata store with existing applications such as enterprise media asset management systems.
LYNXdr — Disaster Recovery in the Cloud—Downtime can be a problem for just about any business, but losing the data altogether is disastrous. LYNXdr, Front Porch Digital's private-cloud hosted disaster recovery and business continuity service, ensures file safety and zero downtime. Moving to the cloud can reduce the total cost of ownership of digital asset management for content owners, which in turn increases ROI. As part of an overall media asset management solution, LYNXdr controls costs because users pay only for what they use when they use it. Off-site data backup to virtual machines is much less costly than on-premise physical servers and allows for instant increases in storage capacity with minimal or no effort from the IT team. Also, by consolidating operations, media organizations can cut capital and operating expenses to reduce overhead. LYNXdr offers a secure, off-site backup capability by ingesting and managing content electronically or from datatape to key strategic regional cloud locations. Additionally, there is no cost increase as the technology evolves, which means users can realize even more value from their assets.
Front Porch Digital's infosite is located at http://www.fpdigital.com/