[SatNews] Avanti Communications is supporting the European Space Agency's (ESA) Automated Transfer Vehicle (ATV) resupply mission to the International Space Station.
ATV-5 was successfully launched by Arianespace on Tuesday, July 29, 2014, from Europe's Spaceport in Kourou, French Guiana. Under ESA supervision, telemetry was acquired by the Redu ground station via Avanti Communications' ARTEMIS satellite at 01:36, with ATV-5's telecommand activated at 01:43.
Click here to watch the launch: http://blogs.esa.int/atv/2014/07/28/watch-atv-5-launch-live/
In December 2013, ESA announced that Avanti Communications had been successful in its bid to take ownership of the ARTEMIS satellite and to support ESA's subsequent re-supply mission. ATV-5 will deliver more than six tons of cargo to the ISS, breaking the record for the heaviest spacecraft ever launched by an Ariane launch vehicle.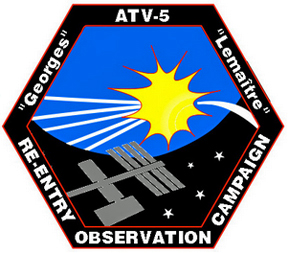 ATV Georges Lemaître is named after the Belgian scientist who formulated the Big Bang Theory and is to deliver fuel, air and more than 2,600kg. of dry cargo to the facility, as well as perform maneuvers to maintain the station's nominal orbit and test new rendezvous sensors in space.
For more information on the ATV-5 launch, please head to http://www.satnews.com/story.php?number=1359125112
"Avanti is pleased to support the successful ATV resupply mission to the International Space Station with mission critical communications services supplied using the ARTEMIS satellite," said Avanti Chief Executive David Williams. "The mission will continue for six months. Avanti is also supplying additional commercial satellite applications via ARTEMIS, targeting government and private sectors."
For more information on Avanti Communications, please visit their infosite at http://www.avantiplc.com/.