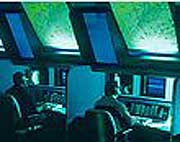 ARINC Incorporated today announced that three major Asia Pacific carriers have selected the company's GLOBALinkSM data link services for airline communications and flight operations.
GLOBALink is a
seamless, end-to-end data link system that enables air crews to communicate and exchange information efficiently with ground crews and airline host systems anywhere in the world, without interruption. It has become a leading service used daily by 78 airlines flying more than 3,000 equipped aircraft.
ARINC has recently expanded the ground infrastructure of its GLOBALink network in Asia Pacific. The network now includes
140 Remote Ground Stations located across 12 countries
.
Korean Air, Thai Airways
, and
Xiamen Airlines
recently
signed or renewed GLOBALink communications contracts with ARINC.
By using ARINC's GLOBALink services, these airlines are able to
respond faster to flight delays and diversions and report aircraft movements more accurately.
The use of data link messaging also reduces voice radio channel congestion.
"Data transfer and communications between our aircraft and the operations control center has become increasingly effective following the implementation of GLOBALink," said
Thanet Suvongse
,
Thai Airways Deputy Director Flight Technical and Document Support.
"The data link service is a no-compromise solution that helps us maintain constant communications to operate safely, with
improved on-time and fuel-used performance
."
"The aviation industry is always looking toward innovative and effective solutions to enhance their operations," stated
Jim L. Martin
,
Managing Director, ARINC Asia Pacific Division
. "Providing a state-of-the-art and efficient data link system for our airline customers has always been a strong commitment of ARINC, and we will continue to develop GLOBALink to meet the growing needs of our customers."