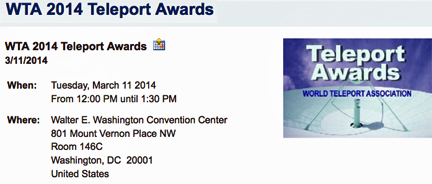 [SatNews] The World Teleport Association has announced the finalists for its 2014 Teleport Awards for Excellence.
From this group of finalists, WTA will name the winners at the 19th annual Teleport Awards for Excellence Ceremony and Luncheon on March 11 during the SATELLITE conference at the Walter E. Washington Convention Center in Washington, DC. WTA selects its finalists from nominations submitted to the association by both members and non-members. Recipients are selected by committees of previous recipients, WTA Board members and management, and Industry Leader and Patron members.
2014 Finalists for Independent Teleport of the Year
Arqiva Broadcast and Media (UK)
Batelco (Bahrain)
Horizon Teleports GmbH (Germany)
2014 Finalists for Teleport Technology of the Year
N-100 Multi-Stream Multi-CODEC from Adtec Digital
SapphireBlu HPA from Advantech Wireless
ViaLiteHD RF over Fiber from ViaLite Communications
"The finalists in the Teleport and Technology categories represent the best of our industry," said WTA executive director Robert Bell. "They are achieving major levels of innovation while maintaining their focus on the consistent high quality that customers demand."
In addition to honoring the winner from these two awards categories, WTA will present the 2014 Teleport Executive of the Year Award to Avi Cohen, CEO of RRsat at the luncheon, sponsored by SES. The over 150 attendees will include teleport, satellite and content distribution technology industry executives, as well as previous awards recipients from around the world. WTA's Director of Development Louis Zacharilla will emcee the event, which is free to WTA members who register. Attendance is also available on a paid basis to non-members.
For information regarding WTA, access http://www.worldteleport.org/