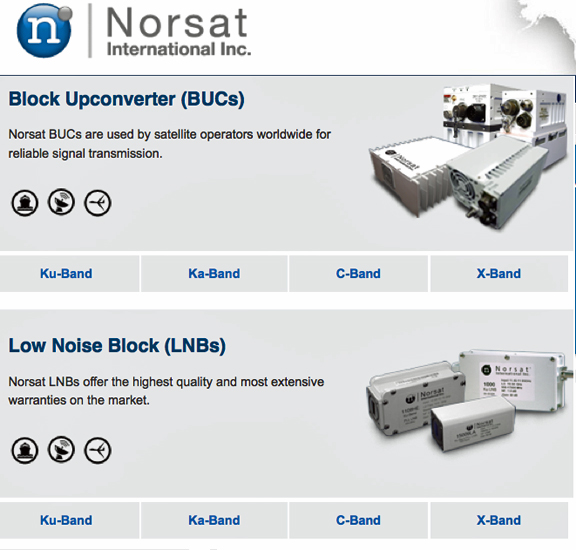 Norsat International Inc. ("Norsat" or "the Company") (TSX: NII and NYSE MKT: NSAT) has added the MEDIAN 40W Ku-band Block Upconverter (BUC), along with a range of Low-Noise Block Downconverters (LNBs,) to the company's microwave product line.
All of the newly launched microwave products are used in satellite signal transmission and reception. The latest addition, the Median 40W BUC, joins the 16W and 25W versions that were announced earlier in 2016. The MEDIAN series of Ku-band BUCs, available in standard and extended Ku-band frequencies, were designed with performance and economy in mind and complement Norsat's ATOM and Element line of BUCs and Solid State Power Amplifiers (SSPAs). The 40W MEDIAN takes advantage of gallium nitride (GaN) technology to deliver high power density with high linearity.
The newly launched LNBs include...
The 1000HU-2 and 1000XU-2 Ku quad-band internal and external reference PLL (Phase Lock Loop) LNBs provide exceptional performance and allow users to use a single LNB to receive multiple frequencies, important for portable applications and maritime users.
The 1000D/F/G-2 Ku-band PLL LNBs and the 1000X-2 Ku-band external reference LNBs are available in frequencies ranging from 10.7 to 12.7 GHz and provide exceptional signal performance and reliability in the smallest form factor on the market.
The 9000-4 series of Ka-band PLL and external reference LNBs offer improved LO stability allowing users to reliably receive a narrower band transmission. Norsat's 9000-4 series is available in frequencies ranging from 17.2 to 22.2 GHz.
As with other Norsat LNBs, the new additions can be customized to meet specific connector, frequency and performance requirements. Each of the new LNB series deliver premium performance at a new lower price point than products currently on the market.