[SatNews] The first Lockheed Martin (NYSE: LMT)-built Space Based Infrared System (SBIRS) geosynchronous (GEO-1) satellite...
...launched on May 7, 2011, is exceeding performance expectations and is on schedule to achieve operational certification later this year. Data from the U.S Air Force's SBIRS GEO-1 satellite will enhance the military's ability to detect missile launches around the globe, support the nation's ballistic missile defense system, greatly expand technical intelligence gathering capabilities, and bolster situational awareness for warfighters on the battlefield.
Within two months after launch, SBIRS began sharing initial GEO-1 satellite data. Some key performance measures reported by the Air Force include:
The GEO-1 sensors are detecting targets 25 percent dimmer than required with an intensity measurement that is 60 percent more accurate than specification
The sensor pointing accuracy is nine times more precise than required
"The outstanding performance trends seen to date gives us confidence heading into our extensive integrated developmental and operational testing campaign," said Lt. Col. Ryan Umstattd, SBIRS lead for GEO-1 certification.
Interim mission performance results indicate that GEO-1 already demonstrates the ability to meet more than 90 percent of Air Force Space Command's performance requirements for operational use, and the remaining performance refinements are on track to be completed well before the satellite is fully certified for operations by U.S. Strategic Command later this year. SBIRS GEO-1 includes highly sophisticated scanning and staring sensors. The scanning sensor will provide a wide area surveillance of missile launches and natural phenomena across the earth, while the staring sensor will be tasked to observe smaller areas of interest with superior sensitivity. The GEO-1 satellite is already delivering data from both its scanning and staring sensors.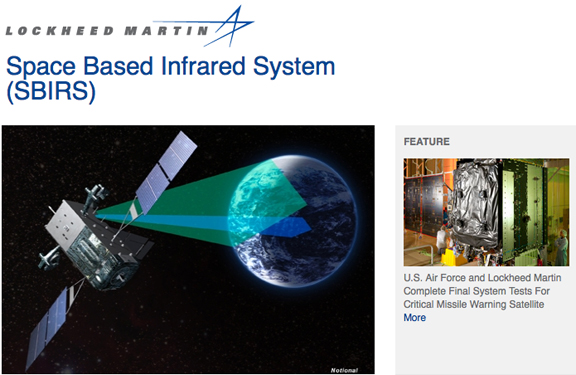 The SBIRS architecture features GEO satellites, payloads in highly elliptical Earth orbit (HEO), and associated ground hardware and software. Lockheed Martin's SBIRS contracts include four HEO payloads, four GEO satellites, and ground assets to command the spaceraft and receive, process, and disseminate the infrared mission data. Two HEO payloads and the first geosynchronous (GEO-1) satellite have already been launched.
The SBIRS team is led by the Infrared Space Systems Directorate at the U.S. Air Force Space and Missile Systems Center. Lockheed Martin is the SBIRS prime contractor, Northrop Grumman is the payload integrator. Air Force Space Command operates the SBIRS system.