[SatNews] SkyTrac Systems has introduced High Resolution Data (HRD), a feature that provides highly accurate 1-second position reporting.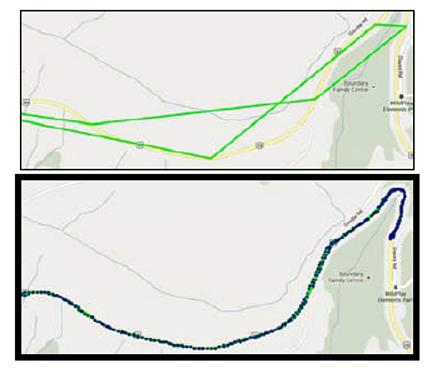 These pictures demonstrate the traditional method of 1-minute reporting (top) in comparison to HRD's more detailed positional data (bottom). The latter provides a more accurate distance traveled, and more precise depiction of airspace usage, flight path and aircraft altitude.

The feature helps validate compliance with a variety of regulations and laws, including noise abatement procedures, restricted airspace, altitude restriction, prohibited airspace, military operations areas or international boundaries. HRD also helps with highly accurate and automated billing data that is easily integrated with current invoicing systems.

This feature uses unique data compression algorithms to supply high-fidelity positional data for extreme accuracy. The algorithms also ensure cost effectiveness in data transmission. The results of an aircraft's flight path and total distance flown can be viewed in SkyWeb, SkyTrac's web-based mapping and reporting system, and the feature has no effect on existing flight following systems.

"We are very excited about the possibilities this presents for the aviation community, as our tests have demonstrated just how accurate and valuable this feature really is," commented President and CEO Malachi Nordine. "More and more operators are expressing a need for high fidelity flight data and now SkyTrac can provide them with just that."