[SatNews] ...he was reassigned to the Western U.S. and Canadian Region where he increased revenue 500 percent in just three years.
IsoTropic Networks, Inc., a leading solutions-based provider of satellite Internet services and iDirect Host Network Operator (HNO), announced today that Marke Clinger has joined the company as Chief Revenue Officer.
Marke joins IsoTropic Networks to further develop their growing portfolio of international clientele and continue IsoTropic¹s recent success
providing connectivity to the top companies in the world. His experience spans the globe with multiple assignments in Asia and two long-term foreign assignments in Europe.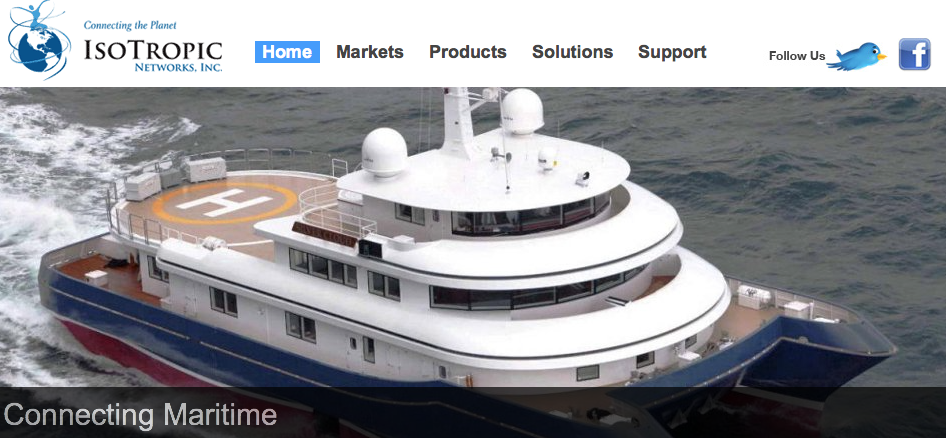 Marke will go to great lengths to serve his clients, even braving the -45º temperatures of Siberia in the dead of winter. Marke comments, "I am excited to start a new challenge within IsoTropic Networks and look forward to working with the team to further develop their extensive product and service suite. I am pleased to be joining such a respected company that prides itself on top quality service and innovation."
Previously, Marke introduced iDirect¹s satellite hub technology to the European, Russian and CIS markets. After successfully establishing iDirect satellite services with telecom companies servicing oil and gas, banking, maritime, and embassy customers in these markets, Marke was reassigned to the Western US and Canadian Region for iDirect where he increased revenue 500% in just 3 years. In this role he signed a diverse set of satellite network operators including those in the oil and gas, digital cinema, public utilities, rural satellite telecommunications, and aeronautical satellite markets.
Along with setting the strategic direction for sales and marketing for IsoTropic, Marke will also define new products and services as well as
lead the sales and marketing teams to continue to build on the strong foundation IsoTropic has established over the past 22 years as a leading,
independently owned, satellite network operator. Lynn Zbierski, President said ³Marke¹s wealth of experience and industry knowledge has already made him a key addition to the IsoTropic family. We view his appointment as a sign of our commitment to being the leading company in our industry.
IsoTropic Networks is a global satellite communications provider of robust and secure satellite IP communications to the Enterprise, Maritime, Oil & Gas, Public Service, Disaster Recovery, Retail, Aviation, Digital Signage and Mining Industries. Additionally, they are recognized as a premier iDirect Host Network Operator (HNO). IsoTropic Networks owns and operates its own teleport facility on 21 acres in rural Lake Geneva, Wisconsin, operating 24/7/365.
With over 20 years of satellite communications heritage, IsoTropic Networks upholds the highest quality products, impeccable services and family traditions more grounded than any satellite communications provider.