ABS has announced that the 12 x 27 MHz of payload on ABS-2A will be co-branded as the MongolSat-1 satellite, dedicated to the Mongolia market.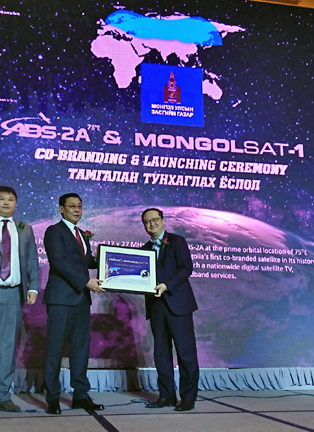 In attendance at this historic event were Mr. Erdenebat Jargaltulga, Prime Minister of Mongolia, and Mr. Enkhbold Miyegombo, Chairman of the State Great Hural (Parliament) of Mongolia. They accepted a token of appreciation from Mr. Tom Choi, CEO of ABS, in honor of the event.
MongolSat-1 represents the country of Mongolia's first co-branded satellite payload in its history. The 12x27 MHz channel satellite capacity of MongolSat-1 will be used exclusively to launch a free, nationwide, digital satellite TV service, telecommunications and broadband services. The new services will be available throughout the vast geography of Mongolia.
At the ceremony, ABS' CEO Tom Choi stated that the company's goal is to deliver extremely affordable satellite services that benefit the entire society of Mongolia.