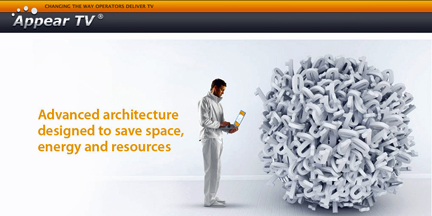 [SatNews] Appear TV (NAB Booth SU6117) has announced that Mexican telecom operator Telecable has selected the XC Series Modular Platform to upgrade its satellite downlink and transcoding capabilities.
Owned by Grupo Hevi, Telecable is one of the largest telecom operators in Mexico, and one of the most important multi-system operators (MSO). With 40 years of experience in the market, Telecable is currently present in more than 10 states, generates more than 2,000 direct jobs, and provides customer service in its more than 100 branches to its approximately 600,000 subscribers, who can enjoy cable TV with services such as High Definition and Digital TV, High Speed Internet with Docsis 3.0 technology and digital telephony services throughout the country using a 8,000 miles hybrid coaxial fiber and optical fiber network.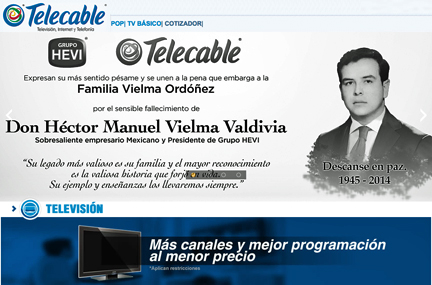 Telecable has upgraded its downlink functionality and video processing capability. The company also chose to add additional transcoding capacity due to an increase in MPEG-4 services. To accomplish this, the service provider turned to Appear TV's Satellite Downlink solution to aggregate any format services and transcode them to MPEG-2 prior to distribution over the Telecable IP network. Appear TV's modular concept allowed Telecable to select modules supporting the specific downlink and video processing it required, enabling it to create a custom-tailored solution. As a result, Telecable can aggregate content and have multiple distribution format processes originating from one platform, while also having the capability to easily upgrade channels or functionality as required.
"Telecable prides itself on offering its customers the latest technology solutions available, so Appear TV fit in with this tradition," says Luis Vielma, COO of Group Hevi. "We chose Appear TV over other offerings on the market because of its innovative architecture, high density and scalability in a single platform. In addition, Appear TV's centralized web-based interface is a simple way for us to configure and monitor the system."
Telecable is deploying the Appear TV solution at five sites across Mexico. The solution's Appear TV XC5000 frame is equipped with modules to support DVB-S2 demodulation, descrambling, transcoding and IP interfaces, supporting over 100 channels in total across all locations.
For more information regarding Appear TV, please visit http://www.appeartv.com/
The Telecable infosite may be accessed at http://www.telecable.net.mx/Default.aspx