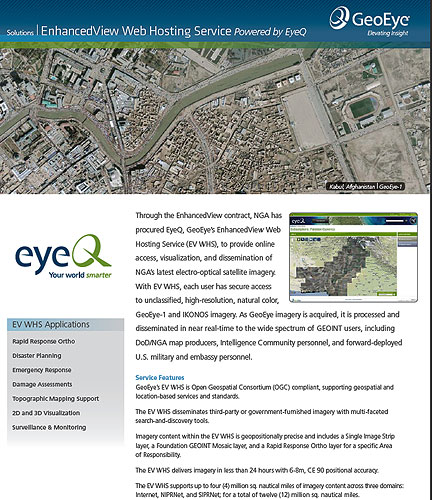 [SatNews] GeoEye, Inc. (NASDAQ: GEOY) is delivering new capabilities to the...
...National Geospatial-Intelligence Agency (NGA). GeoEye's EnhancedView Web Hosting Service (WHS) is now connected to additional government networks. This new capability will provide warfighters and intelligence analysts around the world easy access to unclassified, high-resolution Earth imagery through classified and unclassified U.S. government networks.
The EnhancedView WHS provides users with online access to GeoEye and third-party Earth imagery processed into highly precise foundation geospatial intelligence (GEOINT) and base maps. The EnhancedView WHS has been operating on the Internet since May 2011. This important upgrade will allow users to access this valuable service through their preferred customer networks or access points. As new imagery is collected, it will be immediately updated and disseminated to users through intuitive Web map interfaces. Users can also access identical imagery through Open Geospatial Consortium (OGC) compliant applications such as Esri's ArcGIS, Google Earth, and certain government portals. Users now automatically receive electronic notification when new imagery is available over specific or broad areas of interest.
The additional delivery was on schedule and included NGA certification and accreditation. The new delivery activates a $750,000 additional monthly payment to GeoEye under the current terms of the EnhancedView Service Level Agreement (SLA).
"By enabling additional access to the EnhancedView WHS, GeoEye can help warfighters, analysts, and map producers gain more timely access to relevant GEOINT. This is a major step forward in supporting NGA's strategic vision and mission objectives," said Chris Incardona, GeoEye's senior director, Government Programs, NGA.
The EnhancedView WHS is powered by GeoEye's online access platform, EyeQ™. EyeQ enables thousands of concurrent users to easily access and download hundreds of terabytes of high-resolution imagery.