[Satnews] ViaSat Inc. (NASDAQ: VSAT) has unveiled the Exede® WiFi Modem, offering download speeds up to 25 Mbps—according to the company, no other U.S. satellite internet provider can offer speeds this fast for at-home use.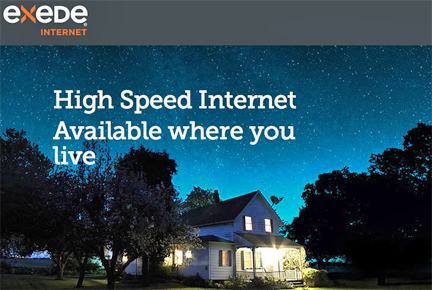 The Exede WiFi Modem offers a new higher speed option for customers in select areas, which enables subscribers to experience download speeds up to 25 Mbps, which is more than three times faster than typical DSL. When activated with the up to 25 Mbps option, the Exede WiFi Modem enables the whole family to surf the web, chat, stream audio and HD movies with better performance, as well as share and experience entertainment like never before on satellite internet. See the Exede speed test graphic at this direct link...

The new Exede WiFi Modem offers high value in a compact design, enabling users to do more with one device. It includes a built-in wireless router, multiple Ethernet ports and an integrated Exede Voice adapter for optional home phone service. By combining all of these functions into a single device, Exede reduces the clutter of devices and wires in the home, while improving the service. Features include:

Exede Modem. The new improved modem offers faster speeds, resulting in snappier webpage loading and faster file downloads, all enabled by through the new 25 Mbps service tier.
Wireless Connectivity. No need to have a separate device with embedded support for WiFi® types 802.11 a/b/g/n, selectable dual band frequency (2.4 GHz or 5 GHz) and security support for WPS, WEP and WPA standards, the Exede WiFi modem allows users to seamlessly share Exede internet among multiple connected devices, creating a fully-capable WiFi network.
4-port Gigabit Ethernet Router. For users who prefer to connect their computers, laptops or other devices with an Ethernet cable, the Exede WiFi Modem has four ports available that will enable users to transfer files as fast as a gigabit per second between compatible devices.
Exede Voice Adapter. With the new Exede WiFi modem, subscribers of the Exede Voice home phone service no longer need a separate adapter to connect to their phone or base station — it's included in the modem.
Executive Comment
"We have a history of revolutionizing satellite Internet, and today we unveil the Exede WiFi Modem with more than double our previous speeds. At up to 25 Mbps broadband speeds, the Exede service is the fastest home satellite internet service available in the U.S.," said Lisa Scalpone, vice president of ViaSat's Broadband Services division. "It's just a hint of what's to come as we prepare for the launch of our next satellite, which will offer even faster speeds nationwide."