[SatNews] Norway-based maritime SATCOM service provider Pyxisat is showing Cobham SATCOM's SAILOR 900 VSAT antenna on its stand (B05-38) at Nor-Shipping 2015.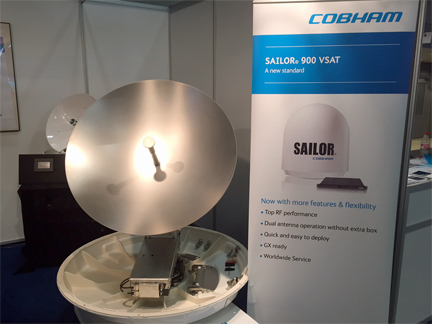 The new SAILOR 900 Ka has been initially developed to enable new services on Telenor Satellite Broadcasting's (TSBc) THOR 7 satellite, which are expected to be available in November 2015. In March of 2014, Cobham SATCOM became the first antenna vendor approved to develop antenna systems for the THOR 7 satellite. With its SAILOR 800 VSAT and SAILOR 900 VSAT already approved for Telenor's Ku-band network, Cobham SATCOM's VSAT antenna system technology was the ideal platform to build on. The new SAILOR 900 Ka is now fully approved for the Ka-band THOR 7 network.
With the Ku-band SAILOR 900 VSAT's unique approach to technology and fast, easy deployment, these attributes also are present with the new SAILOR 900 Ka antenna system for THOR 7, either straight from the factory or via a simple to implement and cost-effective field conversion kit for the SAILOR 900 VSAT. Like the SAILOR 900 VSAT, SAILOR 900 Ka provides uniquely simple procurement and installation in addition to top of the line RF performance. After ordering a complete system with a single part number, the antenna leaves the factory fully tested and configured, with all RF equipment installed, which simplifies logistics for the service provider and reduces the time needed on board for installation.
Both the Ku- and the Ka-band version of the SAILOR 900 platform can be installed and commissioned without the requirement for line-up or calling the Network Operations Centre (NOC). The VSAT uses a single cable between antenna and below deck equipment for RF, power and data, whilst advanced features such as Automatic Azimuth Calibration (home flag) and Automatic Cable Calibration complete the unique ability to commission a SAILOR Ku and Ka-band antenna far quicker than any other antenna. The system also uses Dynamic Motor Brakes so during shipping, installation and no-power situations, there is no requirement for taking the radome off, which saves time and reduces costs.
Covering a large European and North Sea/Atlantic footprint from the 1 degree West orbital location, THOR 7's Ka-band capacity is strategically positioned over the main shipping routes in Europe and major oil and gas exploration and production areas including the North Sea. The THOR 7 Ka-band HTS payload offers 6-9 Gbps throughput with up to 25 simultaneously active spot beams. Services will offer reliable speeds in the tens of Mbps downlink, even from small antennas. THOR 7 Uplink speeds will be anywhere from 2Mbps to 6Mbps depending on antenna size. Service reliability is key, with TSBc implementing a package of solutions to mitigate rain fade on Ka-band, including a new uplink site in Norway to provide antenna site diversity.
Executive Comment
"SAILOR 900 VSAT is a strong platform for ship owners to leverage new high bandwidth services on THOR 7," said Jørn Hammersland, Owner & Partner, Pyxisat. "The technology is well proven on hundreds of vessels and with the new SAILOR 900 Ka and straightforward conversion SAILOR 900 VSAT systems in the field, its application is expanded to a new generation of satellite service. This gives our customers more flexibility in the choice of services whilst providing significant benefits for us as a service provider by focusing on streamlining installation with functions like fast and easy commissioning, whilst facilitating reliable communication services at sea."