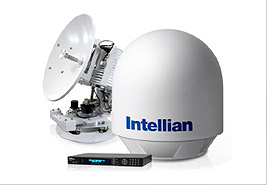 Intellian Technologies has completed the characterization of Eutelsat on its 60cm maritime satellite VSAT antenna system.
The
Intellian
v60
, three-axis stabilized antenna, achieved the RF performance characterization and validation with 38.1 dBi of Tx gain, 35.8 dBi of Rx gian and a maximum allowed EIRP of 31.5 dBW.
The Tx gain obtained from testing exceeds the performances of other same-size antennas by 1~2 dBi, and its Rx gain was also higher than the average. Qualified to be among the best performances in the industry, these numbers are the result of Intellian's solid in-house engineering design capabilities and components, such as the feed horn and optimized Radome. The Intellian v60 is a 60 centimeter (23.6 inch) Ku-band three-axis stabilized VSAT antenna system for SCPC, MCPC, TDMA or Spread Spectrum. With wider elevation range of -10˚ to 110˚ and three-axis pedestal structure, the v60 is more stable and delivers improved tracking abilities than a two-axis platform. The v60 offers both Xpol only and Xpol & Copol models. Designed for ocean vessels in the recreational, commercial or oil and gas market segments and military vessels, the v60 offers "always on" and "high-quality" broadband communications, no matter how rough the weather and sea conditions may be. All Intellian models supports Xpol & Copol and Multi band LNB.