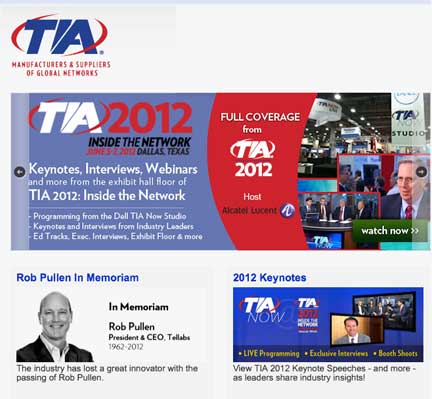 [SatNews] The Telecommunication Industry Association (TIA) and the Alliance for Telecommunications Industry Solutions (ATIS), two leading...
...North American standards development organizations, have announced a gathering of top ICT industry groups to launch a major global organization focused on the advancement and standardization of machine-to-machine (M2M) communications. TIA, ATIS and five other leading ICT organizations from around the world—ARIB, CCSA, ETSI, TTA, and TTC—will meet on July 24th in Bellevue, Washington, to announce this critical new initiative.
M2M communications, known as the emerging "Internet of things," allows seamless communication across any device anywhere in the world. With 50 billion devices predicted to be connectable by 2020, M2M is an economic engine driving growth and innovation throughout a range of global industries, including health care, security, transportation and utilities. Thanks to M2M, physicians can use remote devices to monitor patients; utility companies can gather usage data and prevent waste; and logistics companies can track goods for faster, more efficient delivery to the consumer. However, as telecommunications companies around the world optimize their networks to meet industry needs for M2M communications, there is a quickly growing need for the ICT industry to develop global standards that ensure devices all over the world can effectively communicate with one another.
These leading ICT organizations are joining together with other organizations and those representing specific aspects of M2M applications to confront the critical need for a common M2M Service Layer, which can be readily embedded within various hardware and software, and relied upon to connect the myriad of devices in the field with M2M application servers worldwide.