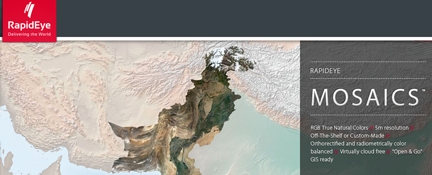 [SatNews] RapidEye has announced their contribution to Esri's ArcGIS online platform.
Users will now have access to RapidEye's newly launched premium content services including RapidEye Mosaics, RapidEye Living Image Multispectral, and RapidEye Living Image Basemaps.

These products are now available through the user-friendly ArcGIS Marketplace, which makes finding and buying premium content more convenient than ever before. The announcement of RapidEye's inclusion as an early adopter in the program was made by Esri's President Jack Dangermond during the 2013 Esri User Conference plenary address in July, but is ready to go-live with its full range of features for US and Canadian customers.
RapidEye's premium content will be available from September 18th for Esri users in the United States and Canada with an ArcGIS Online annual subscription. RapidEye Living Image content will provide consistently updated five meter multispectral and basemap (three-band, true color) imagery for any area of interest, whereas RapidEye Mosaics will make available a recent and seamless picture of full countries.