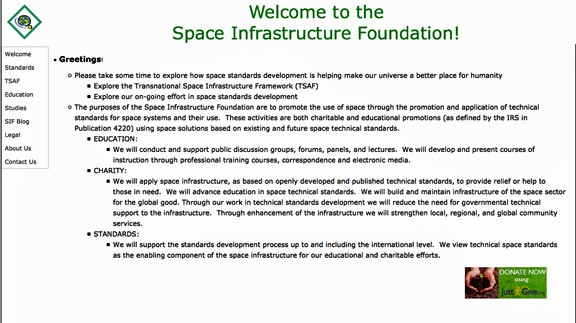 [SatNews] The Space Infrastructure Foundation (SIF) is now in the business of conformity assessments (CA) for space standards.
IFS has been a long term participant in developing both national and global space standards. As the space industry responds to strong commercial demands, commercial standards are becoming increasingly important. CA is essential for commercial industry growth.
"SIF is a non-profit organization and sees this as an opportunity to accelerate the US's commercial space industry's participation in the global space market." said Mr. Fred Slane, Executive Director of the Space Infrastructure Foundation.
SIF, at the 2014 Space Symposium, connected with several companies who are interested in working with the organization to initiate a CA process.
For further information, please contact…
Mr. Stan VanderWerf at stanvanderwerf@gmail.com
or
Mr. Fred Slane at 719-229-4252
The organization's infosite is located at http://www.spacestandards.org/