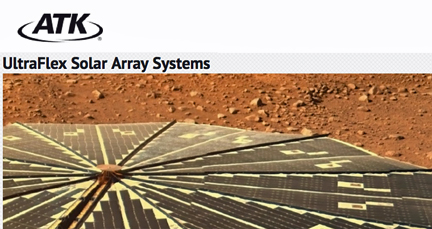 [SatNews] ATK (NYSE: ATK) received a contract from Lockheed Martin Space Systems to provide the UltraFlex solar arrays for NASA's InSight Lander mission, which will place a lander on Mars in 2016 to study the red planet's deep interior.
The mission will give all a better understanding of the processes that shaped the rocky planets of the inner solar system, including Earth, more than four billion years ago.
"UltraFlex is known for the unique round fan-fold design that enables much higher performance than typical spacecraft solar arrays," said David Shanahan, vice president and general manager of ATK's Space Components division. "With spacecraft facing increasingly ambitious low-mass and constrained packaging requirements, ATK's arrays deliver all the power our customers need with this enabling technology."
The UltraFlex design successfully passed critical design review in February 2014. ATK is now fabricating the InSight arrays for testing later this year and delivery in 2015. The design is based on the array that powered the successful Mars Phoenix Lander in 2008. Similar versions of the UltraFlex design are being used for Orbital Science's Commercial Resupply System (CRS) spacecraft; the first of many CRS UltraFlex arrays are planned to be flown later this year on CRS. A larger, higher-power evolution of UltraFlex, called MegaFlex, has recently completed development testing at NASA's Plum Brook Station. MegaFlex was designed for high-power spacecraft such as those using future solar electric propulsion systems being developed by NASA for deep space exploration missions, including the Asteroid Redirect Mission.
InSight, an abbreviation for Interior Exploration using Seismic Investigations, Geodesy and Heat Transport, will use sophisticated geophysical instruments to delve deep beneath the surface of Mars, detecting the fingerprints of the processes of terrestrial planet formation, as well as measuring the planet's "vital signs—its "pulse" (seismology), "temperature" (heat flow probe) and "reflexes" (precision tracking). InSight is managed by the Jet Propulsion Laboratory, California Institute of Technology, for NASA's Science Mission Directorate. Lockheed Martin will build and operate the spacecraft.
The ATK Space Components UltraFlex infopage is accessible via http://www.atk.com/products-services/ultraflex-solar-array-systems.