[SatNews] This manufacturer of RF and Microwave products for the communications industry, will be exhibiting at ...
MILCOM 2014 from October 6-8, 2014.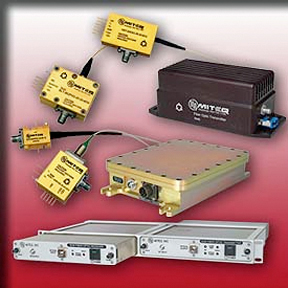 One of the product families on display will be the Fiber Optic Transmitter, with an operating bandwidth from 100MHz up to 18GHz. Transmitter Model number HRT-100M18G-30-25-M15 has a noise figure of 25dB and is available in two different optical wavelengths (1550, 1310nm). The operating temperature range is -40 to +85ºC. With MITEQ's line of fiber optic receivers, it now is possible to have a complete fiber optic link that is sealed from the environment and has a spurious free dynamic range of 103dB/Hz. MITEQ has fiber optic links with operating bandwidths up to 20GHz.

MITEQ offers a broad range of Ka-band components and subsystems for Airborne and Ground SATCOM communications. These products include: Low Noise Amplifiers, Frequency Converters, Frequency Synthesizers, Test Translators, Pin Switches and Low Noise Block Converters.

The new MITEQ One-third Block Converters have been further expanded with the new Block Up- and Down-converter models that offer an internal slope adjustment feature that permits compensation of gain slope over a 1GHz bandwidth. Models are available in all bands thru Ka-band. The space saving 1/3 rack size permits, in a standard 1 RU rack space, the configuration of a redundant block converter system using two 1/3 rack converted and a 1/3 rack NSU switch over unit. Other redundant configurations or RF and IF SATCOM signal distribution systems configure in a 1 RU space using other members of the MITEQ 1/3 rack product family:
C, X, Ku, DBS, K, and Ka BUCs and DNCs
Test translators for all bands
Fiber optic transmitters and receivers
IF amplifiers with or without slope equalization
SATCOM bands and IF band frequency synthesizers
Redundant switch over units
*patent # 7,510,090
MITEQ will be at the MILCOM 2014 Show in Baltimore, Maryland, on booth 768. To Register for this event, please select this link.
The MITEQ infosite may be accessed at http://www.miteq.com/ for further information.