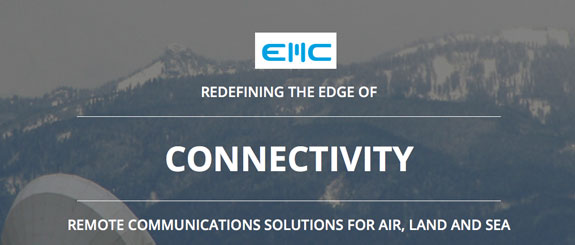 [Satnews] EMC has launched their new infosite—EMCConnected.com—in addition to unveiling the company's Customer Experience Center to showcase new technology, products and services online and on site.

EMC is redefining the most advanced edge of connectivity and content delivery at sea, on land and in the air. EMCConnected.com delivers access to the industry's most powerful and tailored solutions that enable these remote communications services—digital media, systems integration and equipment—for customers in eight vertical markets.

In addition to this enhanced online presence, customers and partners can now view live, in-person demos of EMC technology solutions at the company's Miramar, Florida, headquarters. The new EMC Customer Experience Center demonstrates the industry's most advanced hybrid satellite and terrestrial network. Customers can experience the latest digital media solutions for remote locations, including SpeedNet®, the highest-speed Internet available on VSAT (very small aperture terminals). They also can experience live TV at sea and video conferencing in the world's furthest reaches. Finally, the Center showcases EMC systems integration, equipment and expertise.

Visitors to the new EMCConnected.com will experience a customer-focused site featuring streamlined navigation, a download center with materials detailing product offerings, and links to key customer tools such as ShipTracker™ and the MyEMCLink portal. Interested organizations and individuals can book a Customer Experience Center demo through this site on the Contact Us page.