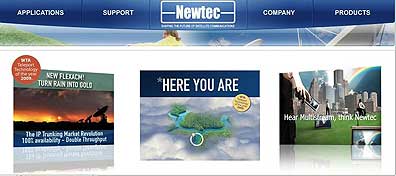 Newtec announced today that its FlexACM® technology – that reports indicate, on average, doubles satellite link capacity – is the system behind Gateway Communications' flagship continent-wide Internet backbone service, Africa IPJetDirect.
Gateway Communications, which has the
largest pan-African communications network with customers in 40 countries, successfully launched IPJetDirect last year using C band and Ku band satellites to deliver IP services to mobile phone operators in Africa.
Newtec's
DVB-S2 VCM and DVB-S2 FlexACM®
technologies have been deployed on
several platforms across the African continent to ensure maximum bandwidth efficiency and allow Gateway to make best use of the scarce satellite capacity over Africa
.
"Gateway has always been a pioneer of high quality, cost effective voice and data connectivity across Africa.
By using FlexACM® it can now reach out even further to satisfy Internet demand, and without unnecessary further satellite capacity investment,
" said
Newtec CEO
Serge Van Herck
. "FlexACM's
unique ability to dynamically optimize an end-to-end satellite transmission is ideal in this situation
and we are delighted to be playing a part in supporting Gateway's drive to deliver truly world class communications solutions across Africa", Herck added.
FlexACM® combines a range of cutting edge technologies for implementing Adaptive Coding and Modulation (ACM), traffic shaping, payload compression and IP acceleration in a highly efficient way for IP trunking and IP backbone satellite links.
In addition to doubling the capacity of an existing link, on average, it also guarantees 100 per cent availability of link reception, even when all other systems are down due to heavy rain fade. FlexACM® can be used in point-to-point and point-to-multipoint systems, in one way (with terrestrial return channels) as well as two way configurations (with the return channel also over satellite). It can be used to upgrade existing satellite links without changing other elements of the transmission chain, such as the antenna or HPA.
"FlexACM® is optimizing the transmission dynamically and automatically. It is helping us in our drive towards
easy and cost-effective Internet access and to make sure Africa leads the way global communications are moving
". FlexACM® is available on Newtec's Elevation product family, which consists of DVB-S2 IP Satellite Modulators, Demodulators, Modems and Satellite IP appliances.