Teekay Offshore has renewed and expanded its agreements with Marlink to continue using global VSAT services for an additional four years.

This contract extension ensures reliable global broadband connectivity for data sharing and smart vessel operations, improved facilities for crew welfare and a flexible platform to generate efficiencies from the maritime Internet of Things (IoT).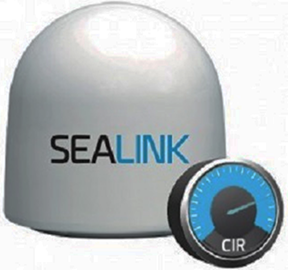 As part of the contract renewal, Marlink will provide its Sealink VSAT service across Teekay Offshore's entire fleet of shuttle tankers and FSOs, as well as welcoming six new E-Shuttle tankers under construction at Samsung Heavy Industries. All shuttle tankers will benefit from a permanent bandwidth boost as part of the Marlink contract renewal, supporting Teekay Offshore's digital strategy designed to support environmental and operational sustainability.

Teekay Offshore's new E-Shuttle tankers are designed to reduce emissions and bunkering requirements by 50 percent through an advanced, integrated LNG, VOC and electric powertrain. Marlink will deploy a fully managed service for these state-of-the-art ships, ensuring the highest possible availability of high-bandwidth connectivity for continuous global access to IoT and smart technologies, in support of Teekay's class-leading environmental credentials.

The new contract also facilitates more control of bandwidth in use, improving the user experience for operational applications and crew use. The latter is further boosted by the addition of XChange Bring Your Own Device (BYOD) solution with on board WiFi. Marlink will manage crew account and settings and the on-board WiFi, as well as cybersecurity systems such as content filters and firewalls.

Regis Rougier, VP Operations, Teekay Offshore, stated that Marlink has demonstrated relentless commitment to quality of service, helping the company to optimize their services to clients globally and to also increase the company's value proposition across the board. As the first choice for the critical shuttle tanker connectivity that augments safety and effectiveness at sea, Marlink continues to be an essential aspect of Teekay's commitment to bring energy to the world in a sustainable way.

Tore Morten Olsen, President Maritime, Marlink, added that Teekay Offshore is a forward thinking, safety and environment first global marine services company with specific and demanding communication requirements for its shuttle tankers. Having taken responsibility for the fleet in 2011, Marlink is delighted that Teekay Offshore continues to recognise the firm's ability to ensure the quality and availability needed to support both complex offshore loading operations and daily running.