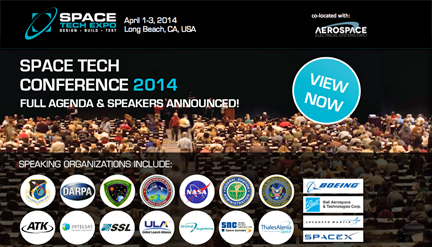 [SatNews] The Space Tech Expo exhibition and conference brings together global decision-makers involved in the design, build and testing of spacecraft, satellite, launch vehicle and space-related technologies.
Leading the West Coast space and satellite industry, Space Tech Expo is where end-users connect with solution providers; a platform for specifiers and buyers to meet manufacturers and the supply chain for civil and commercial space. Confirmed exhibitors include ATK, Boeing Technology Services, United Launch Alliance, Sierra Nevada Corporation and many more industry leaders. The full list can be found on the event website.
Marking a positive move from Los Angeles to Long Beach last year, Space Tech Expo has achieved significant growth, successfully establishing itself as the leading B2B exhibition and conference for the industry. 2013 welcomed more exhibitors, visitors and delegates than ever before, offering a prime opportunity for leading professionals to engage their target market. The event hosted 144 exhibitors—10 percent rise from 2012—and despite the current challenges the industry is facing, attendee numbers also increased by 15 percent from 2012. This year, numbers are set to rise even further with a predicted 180 exhibitors and 2,450 attendees.
Industry development of emerging spacecraft technologies has never been more globally or commercially focused. The time to capitalize on the new market era of expanded private-sector applications and opportunities is now... With its multi-faceted technical conference programming, comprehensive hall offerings and attendee networking opportunities, Space Tech Expo is set to present exhibitors with a one-of-a-kind marketplace of ideas via one of the most highly targeted ROI channels from any exhibition of its type.
In addition to the exhibition, Space Tech Expo 2014 features a three-day conference entitled Space—The New Reality, which explores how budget constraints continue to impact commercial, military/DoD and government space sector spending on space; the entire value chain must adjust to working in a new reality. The conference boasts a host of influential speakers including Gwynne Shotwell, President & Coo at SpaceX, Phil McAlister, Director of Commercial Spaceflight at NASA, Jim Simpson, President at Boeing Satellite Systems International Inc. and Debra Facktor Lepore, Vice President and General Manager of Strategic Operations at Ball Aerospace & Technologies Corp. The full list can be found on the event website. A pass for all 3 days is just $695. Space Tech Expo also offers free learning opportunities for all exhibition attendees through our free Open Forum workshops, covering a variety of industry topics. This unique approach ensures that your time away from the office pays dividends and is both money and time well spent.
For further details and to register for the show, please access http://www.spacetechexpo.com/