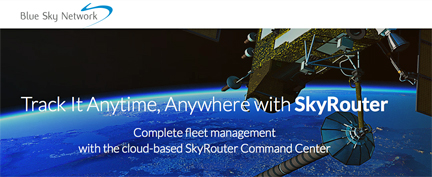 [SatNews] Blue Sky Network, a provider of voice and data services via the Iridium satellite network, has just introduced the SkyRouter Mobile App for iOS Smartphone users.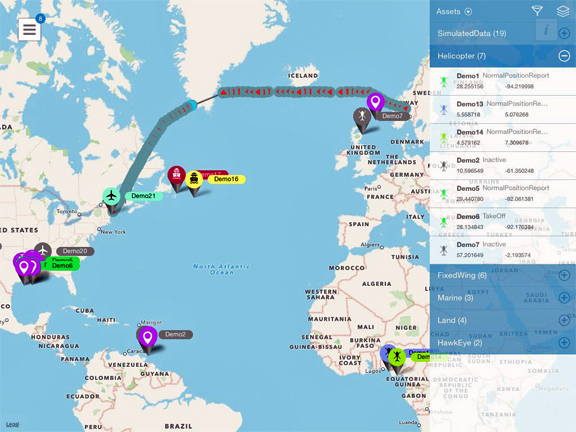 This new app allows authorized users to view, track, and communicate with any Blue Sky Network equipped aircraft, vehicle, ship, or person in their organization. The app extends the usability of innovative features built into Blue Sky Network's cloud based web portal, SkyRouter, which supports remote monitoring and interaction with globally dispersed assets. Users can track assets, communicate via email, or even send and receive user defined forms including trip plans. Key features for the SkyRouter Mobile App include:
Increased fleet efficiency and reduced operational expenditures: The Tracking page provides a full and complete view of all assets on the map in real time including status, breadcrumbs, and events in a very intuitive and visual way. Push notifications occur if an asset goes into QPOS mode
Fleet safety and uninterrupted communication: The Messages page allows users to instantly communicate with all eligible devices from their iPhone or iPad
Effective reporting and monitoring: SkyRouter's new forms page allows users to exploit our new dynamic forms capability including flight plans, aircraft weight and balance, and driver logs for example
Map options and overlays: The users can toggle any custom layers on and off and switch between standard and satellite views

"This new and elegant iPhone/iPad App brings our comprehensive SkyRouter platform to the mobile arena. Our guiding strategy is to exploit the power and functionality of smart devices with our exceptional solutions. At Blue Sky Network, we will continue to lead with innovation for our customers. This SkyRouter App exemplifies our commitment and philosophy" said Jon Gilbert, CEO of Blue Sky Network.
The SkyRouter Mobile App will be available in the Apple store.
The Blue Sky Network infosite may be accessed at http://blueskynetwork.com/