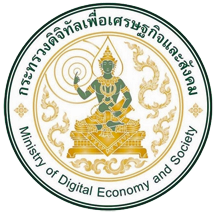 Thailand's Digital Economy and Society Ministry will, next month, submit a study on how to reform the satellite-service industry and a related proposal from Thaicom to the National Space Committee for a final decision on the issue, based on a report by Chula Unisearch, according to The Nation infosite.
In the article written by Usanee Mongkolporn and Jirapan Boonnoon, Somsak Khaosuwan, the deputy permanent secretary of the ministry, said that the committee would then forward its final decision to the nation's Cabinet in March. As part of the Chula Unisearch study commissioned by the ministry, it advised bringing Thaicom's two licensed satellites — Thaicom 7 and 8 — back under the ministry's concession regime.
Both of these satellites will be under a concession until expiration in 2021. Later, Thaicom proposed to the ministry that the company allow the government to use one transponder from each of its existing licensed satellites, Thaicom 7 and 8, and also future licensed satellites, free of charge for the rest of their life spans. The average transponder lease fee is Bt300 million per year.
The company also proposed that for Thaicom 4 (IPSTAR) and the Thaicom 5 and 6 satellites, which operate under the ministry's concession, they would continue paying the annual concession fee from the end of the concession in 2021 until the end of their life spans. The annual concession fee it offers to pay in this case is the same as it will pay to the ministry from this year until the end of the concession in 2021, which is 22.5 per cent of its gross revenue.
The concession for the Thaicom 4 and 5 satellites will end at the same time in 2021, while in theory their life span will run to 2021 or later. The concession for Thaicom 6 expires in 2021 but its life span will continue for eight years after that.
Thaicom also offered to help the government build up the state's satellite system by capitalizing on the firm's depth of experience. The ministry will also propose for the National Space Committee's consideration the results of Thammasat University Research and Consultancy Institute's study on the demand for satellite service by state agencies.
The National Broadcasting and Telecommunications Commission and the ministry have redundant roles in supervising the satellite service industry. The ministry oversees the Thaicom 4, 5 and 6 satellites, while the NBTC licenses and oversees Thaicom 7 and 8 and future Thaicom satellites. However, it is the ministry that coordinates with international bodies to secure orbital slots for Thaicom.
The NBTC annual license fee costs Thaicom only 5 per cent of its gross revenue.