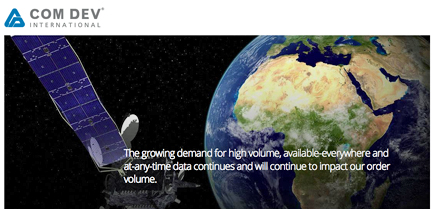 [SatNews] COM DEV International Ltd. (TSX:CDV) has been awarded a fully funded contract in excess of $13 million to deliver Ka-band equipment, including multiplexers, switches and microwave equipment to be used on a high throughput communications satellite.
The satellite is being built to add needed capacity to data communication users in Europe and Africa and address additional markets there and in the Americas. In addition to fixed beams, the satellite will also have steerable beams that can be directed to different regions depending on market demand. Work on the contract will be carried out at the Company's facility in Cambridge, Ontario, with completion expected by November of 2015.
"This is an important contract win for us as it leverages our expertise in Ka-band communications and is our first contract on a new satellite platform," said Mike Williams, President of COM DEV International Products. "Our ability to provide products that meet the growing demand for data and are adaptable to new platforms will help us maintain our leadership position in the communications satellite industry."
The COM DEV Int'l infosite may be accessed at http://www.comdev.ca/