[SatNews] Signalhorn has been awarded funding from the European Space Agency (ESA) to develop a gateway that will allow its customers to monitor all aspects of their services with the company. The funding is part of ESA's Advanced Research in Telecommunications Systems (ARTES) program.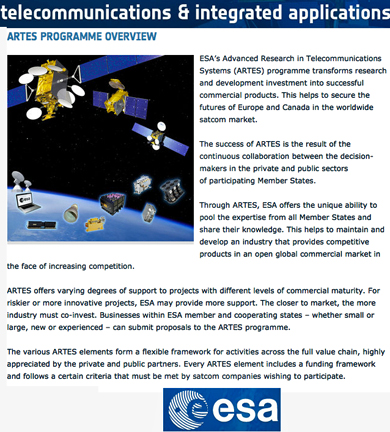 ARTES is designed to support research and development activities that result in leading-edge satellite communications products and services. The Signalhorn Gateway will bring together all aspects of the functional relationships the company has with its customers in an easy-to-use, web-based interface accessible from any PC based browser or smart phone. These functions include network visibility, site performance and trouble tickets to accounts, contracts and billing. Development of Signalhorn's Customer Gateway began in early 2013 and version 1.0 will be released in the first quarter of 2014. Signalhorn has developed its Customer Gateway in-house with its own software engineering team.
"The requirements of this broad project have given Signalhorn the opportunity to deliver a single consistent and comprehensive interface to the networks we operate for our customers," said Robert Kubbernus, President & CEO of Signalhorn. "The award will enable us to deliver much-needed functionality to our customers while making us more competitive by improving our internal efficiencies."
Signalhorn delivers fully managed services for its customers and in the past has provided a level of systems access to its customers on a case-by-case basis. Many of Signalhorn's competitors offer customer portals but most address only one or two requirements, specific to either a single technology platform or a function such as fault escalations. The depth of functionality built into Signalhorn's Customer Gateway will place Signalhorn ahead of the competition in the provision of information that spans multiple systems and multiple functions.
Signalhorn's infosite is located at: http://www.signalhorn.com/index.php/en/company/
ESA's ARTES overview infopage is located at: http://www.esa.int/Our_Activities/Telecommunications_Integrated_Applications/ARTES/ARTES_programme_overview