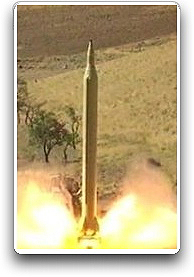 Animals in space... that's Iran's next planned move for their Kavoshgar-2 two stage, solid fuel rocket.
Insisting all along that the country's space program is non-military in nature, the country intends to blast critters into space as a stepping stone to their first manned space flight. This, according to one of Iranian's space flight "officials,"
Mohammed Ebrahimi
. He is, apparently, the second in command at Iran's
Aerospace Research Institute
. In the near future, according to Mr. Ebrahimi,
Kavoshgar-3
and
-4
will use animals as their test passengers. Last Wednesday, the
Kavoshgar-2
launch succeeded. The payload was a carrier, a space lab, and a restoration system. This Iranian rocket is fully capable of packing a small payload and then re-entering Earth's atmosphere with a high degree of accuracy, according to reports. The most recent launch had the rocket engaged in air pressure and wind speed analysis as well as a series of other test that were initiated at altitudes of 50 to 200 kilometers above the earth.
Once again, these launches are not for military purposes!