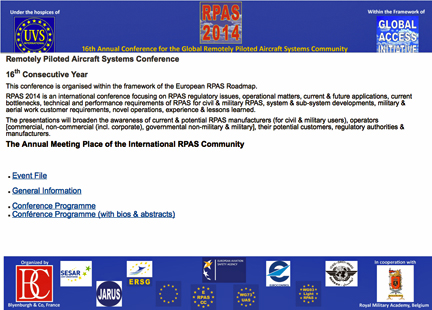 [SatNews] The RPAS 2014 conference is Europe's principal RPAS event during 2014.
The event will feature an opening speech by Siim Kallas, Vice President of the European Commission, Commissioner for Transport; as well as 50 presentations (six by the EC & European authorities + 44 by RPAS community stakeholders); and speakers from 16 countries.
RPAS 2014 is the only conference to address:
The incremental insertion of RPAS into European airspace;
The European RPAS Roadmap and its implementation;
How Europe is structuring itself to meet this challenge;
All aspects of commercial RPAS operations;
All relevant regulatory & policy issues.
RPAS 2014 will highlight:
RPAS operations (governmental; commercial; non-commercial - including corporate);
The current commercial RPAS situation in Europe (more than 1500 certificated operators);
How this has been made possible;
What is being put in place to permit further development of the RPAS market;
How this will effect European, as well as non-European, RPAS manufacturers & operators.
Click here for a direct link to the online registration form.
All additional information may be found at http://www.rpas-2014.org