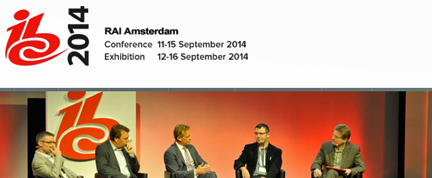 [SatNews] The breakneck speed at which the electronic media and entertainment industry is moving into IT and IP has profound implications for content creation, distribution and monetization.
Make sense of all of this activity in the company of visionaries only at the IBC2014 Conference. Expand your knowledge across five days of intense debate and enjoy full access to the innovations at the IBC Exhibition, plus stimulating networking activities among 52,000+ fellow professionals. Start your journey with us today.
Each day of the IBC2014 Conference will feature a scene-setting keynote and a series of compelling sessions which will tell a different chapter of the innovation story of our industry. On Thursday, delegates can expect a hard-hitting assessment of broadcast's role in an IP-centric world. Friday's theme, Embracing Change, is devoted to disruptive and enabling technologies and Saturday's programme explores how tech titans, start-ups and aggregators are making the most of that opportunity. On Sunday, attention turns to the strategies which stakeholders are using to enhance the viewing experience. View the IBC2014 Conference Program at this infopage.
You can also navigate the conference by a series of streams,which each contain keynotes, masterclasses, panel discussions, and technical analysis to give a comprehensive picture of 2014's topical themes from multiple different angles. The streams include Advances in Technology, which is also home to the peer-reviewed Technical Papers & Posters program; Business Operations & Content Innovation which includes practical sessions that assess the real world implications of innovation; and Strategic Insights which arms you with fresh data to make the right investment and engineering-led decisions. Find out more about the IBC Conference streams at this infopage.
From understanding how to effectively apply new technologies to your business model, to analysing, debating and assessing cutting edge ideas and networking with the thought leaders of the industry – whatever your goal for attending IBC, there is a pass type that suits you. The Silver Pass provides complete flexibility with unlimited access to all conference sessions. Meanwhile the Bronze Pass allows you to select five must-attend sessions across the program. All conference passes include access to the five day exhibition and feature areas throughout the show, as well as a host of other benefits. All are available now with significant early bird rates—check them out at via this direct link.
To learn more about IBC2014 in general, please visit their information site here.