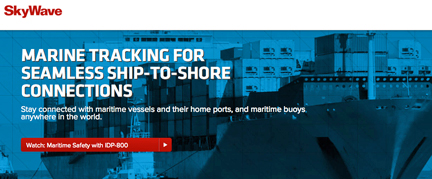 [SatNews] SkyWave Mobile Communications Inc. has been selected by the editors of Connected World magazine in the prominent 2015 CW100, an annual ranking of the technology leaders based on their contributions to the connected devices marketplace.
This ranking is considered the most definitive and influential directory for taking into account the shifting demands of the M2M market. Companies listed on the CW100 are ranked on their game-changing technologies, products, services and commitment to enabling connectivity as determined by the editors of Connected World. SkyWave appears on this list for the second year in a row and joins other notable companies, including Cisco, Apple and Google.
SkyWave is the only company in the world that operates a 3rd generation SATCOM M2M network. The company's portfolio of M2M satellite, cellular and dual mode communication offerings are based on the extensive experience of providing hardware, network and application solutions that work together to deliver a reliable, cost effective and integrated approach for tracking, monitoring and managing vehicles, vessels and equipment anywhere in the world. Based on this innovative portfolio of M2M products and services, SkyWave is quick to leverage its technology to uniquely meet the latest trends and demands to connect remote people, equipment and the enterprise system for advanced connectivity and data analysis capabilities.
For more information, please visit the SkyWave infosite at http://www.skywave.com/