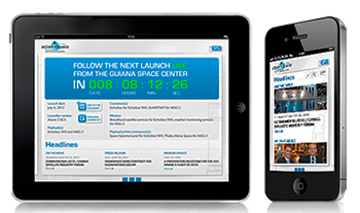 [SatNews] With the release of Arianespace's new mobile application, tablet and smartphone users around...
...the globe can follow the company's launch activities through the swipe of a finger. This application—named Arianespace HD—provides a wide range of features for its users, highlighted by the ability to follow live coverage of the company's commercial missions, which are performed using a family of launch vehicles: the heavy-lift Ariane 5, medium Soyuz and lightweight Vega.
Additional features include extensive photo and video galleries, integrated news coverage of company activities, a countdown to the next liftoff and information on Arianespace, its launch vehicle family and the Spaceport in French Guiana.