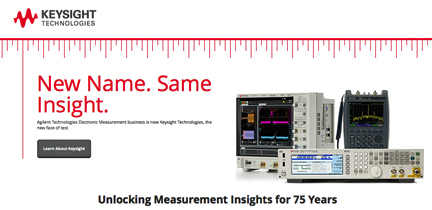 [SatNews] Stay up to date on the latest technologies and solutions with complimentary Keysight webcasts—the latest in this series is Precision Validation, Maintenance and Repair of Satellite Earth Stations.
Satellite communication systems have been used for decades to provide fixed point and mobile services to the commercial and military markets worldwide. Services include two-way telecommunications, navigation, and television and radio broadcasting . As in most modern wireless systems, satellite communications bandwidths have evolved over time with digital data rates starting from kilobits per second (Kbps) to current system-wide capacity of over 100Gbps.
There is now unprecedented development in the provision of new High Throughput Satellite (HTS) broadband solutions capable of delivering Internet, voice, video and other unique communications services. Major operators and broadcasters either have launched or are making plans for a wide range of applications, including not only consumer but also gas and oil, disaster recovery, aeronautical, maritime, military and other mission critical requirements. For each satellite deployment, there is a much larger set of terrestrial-based systems, or ground stations, ranging from satellite control facilities to end-user devices. The validation, maintenance and troubleshooting of these ground stations often requires a combination of indoor and outdoor testing of numerous RF and IF subsystems and components. This webcast will discuss modern solutions for ground station testing that are rugged, portable, battery operated and achieve measurement accuracy comparable to benchtop equipment. Measurement examples of ground station parameters such as uplink power level and frequency accuracy, downlink interference, converter (up/down) performance, group delay and transmission line fault location for coaxial and waveguide feeds will be discussed.
Who should attend: Engineers, technicians and their managers involved in the performance verification, installation and maintenance of ground stations which are part of broadband military and commercial satellite communications systems.
This event will occur on September 18, 2014, from 10:00 a.m. PT / 1:00 p.m. ET.
To sign up for this Keysight webcast, please access this registration page.