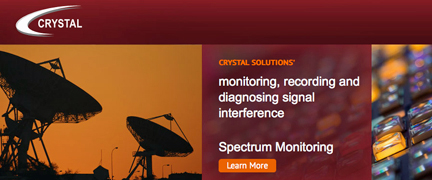 [SatNews] Crystal Solutions will be hosting a series of satellite interference prevention and Carrier ID detection workshops at Satellite 2014.

The workshops will be hosted by Roger Franklin, CEO of Crystal Solutions, and Chairman of the Satellite Interference Reduction Group's Carrier ID (CID) advisory committee. Currently the committee is working towards global implementation of the new Carrier ID technology, which was formalized as an ETSI standard last year.
"Carrier ID is only one piece of the puzzle, but it is an extremely effective way of drastically reducing the effects of satellite interference," commented Roger Franklin, CEO, Crystal Solutions. "It is only effective, however, if we can achieve widespread implementation of the technology and if the right tools are in place to transmit the CID, detect the CID, and resolve the instance of interference."

The workshops will focus on how CID can be effectively detected, as well as explain how new technology is helping to improve the efficiency of CID detection.

"We are pleased to be supporting this series of workshops," commented Martin Coleman, Executive Director, the Satellite Interference Reduction Group. "Crystal Solutions, and in particular Roger Franklin, have been extremely active in our CID campaigns, making them perfectly placed to inform the industry about this technology and the next steps necessary."

The workshops will take place at the Crystal Solutions booth (#8064) at the following times:
Tuesday March 11th @ 11:00 a.m.
Wednesday March 12th @ 11:00 a.m.
Wednesday March 12th @ 3:30 p.m.
The Crystal Solutions infosite is accessible at http://www.crystalcc.com/