[SatNews] Thuraya Telecommunications Company and the Dubai Police have announced the launch of the Thuraya SOS service.
With immediate effect, Thuraya XT handset users in the region can send a pre-programmed SMS with their GPS coordinates to the Dubai Police in times of distress or emergency. The service is crucial for users who are lost or require emergency care when in remote areas such as the desert or at sea with limited or no connectivity.
Thuraya XT handset users can program up to four numbers as emergency contacts, including 1199, the emergency number of the Dubai Police, in the Thuraya SOS application on their handset through the "helper" function. To activate the service, users only need to press the soft key on the right side of the keypad of the Thuraya XT for two seconds and the application will send GPS coordinates to Thuraya's Primary Gateway office and then to the Dubai Police to flag their emergency.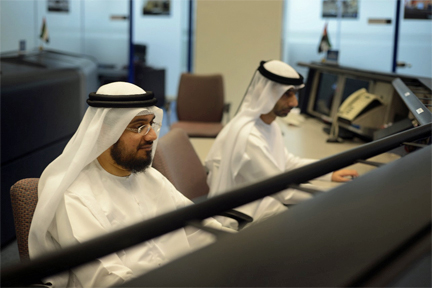 Major General Khamis Mutar Khamis Al Muzainah, Commander-in-chief of Dubai Police, said, "The Dubai Police is committed to enhancing our services to ensure the highest level of protection of our people. The launch of the Thuraya SOS service demonstrates our commitment to leverage innovative and reliable technology to ensure the safety and protection of our residents. Our collaboration with Thuraya has enabled us to save the lives of many people who were lost or required emergency care in remote areas. Although the UAE is a highly connected nation, people still need to be aware that there will always be areas such as the desert and the sea that do not have mobile connectivity. When travelling in such areas, having a Thuraya XT handset can save their lives if they encounter any emergency."
Amal Ezzeddine, Director of Government Services at Thuraya, said, "Our collaboration with the Dubai Police demonstrates Thuraya's commitment to saving and improving the lives of our users. This is the first time that we are launching such a service with local authorities. We attribute the launch of the service to the Dubai Police and their engineers who have been working closely with us to refine the application and integrate the two systems so that we can launch it for Thuraya XT users in the UAE."
For additional information, please visit the Thuraya Telecommunications Company infosite at http://www.thuraya.com/