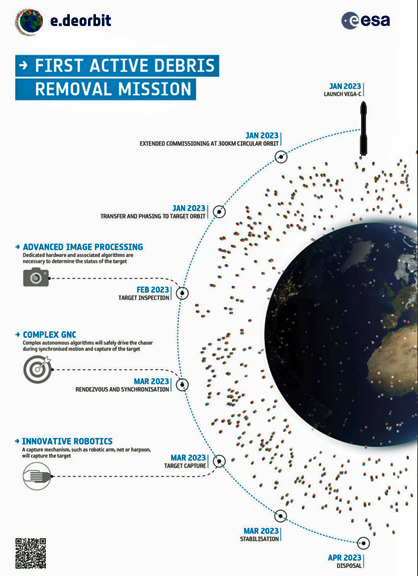 The ESA plan is to remove a rather large section of space junk in 2023, junk that was formerly a satellite and presenting a dangerous presence in low orbit.
This plan will contribute new technology to cleaning up space via the ESA's e.Deorbit mission. A satellite will be launched that will have the capability of capturing a satellite and then shoving the offending item into the Earth's atmosphere, where said object will be destroyed via burn up. Most space debris happens to orbit below an altitude of 2000 km, and the only sure way of impacting debris dangers is to remove the larger items from their spatial encirclement of Earth.
ESA's study manager, Robin Biesbroek, acknowledged that while the concept is rather straightforword, the implementation is complex and is nothing like ESA has ever attempted previously. He said, "The chaser satellite requires extremely sophisticated guidance, navigation and control to synchronize motion and then capture its target, guided in turn by advanced image processing, blending inputs from optical and multispectral cameras as well as 'laser radar' lidar to derive a precise, reliable sense of the target and its motion."
Autonomy for the capture satellite will also be required, as continuous, realtime ground control won't be practical, especially during the critical capture phase. Mix in the need for e.Deorbit to use a highly reliable method whereby to capture the target—ESA is determining if gripper, a harpoon or even a net and advanced robotics might be able to bring the "capturer" and the "capturee" satellites together.
A new breed of "space tugs" will be developed, as the industry requires such to occur to offer various on orbit servicing and refueling needs. Several of the technologies being developed for e.Deorbit will overlap space tug requirements, and debris capture will certainly be considered a highly worthy achievement.
According to Biesbroek, "We propose to finalize the design and realistically test key technologies—including weightless net testing on a suborbital rocket—to be ready to build after final approval from the next Agency's Ministerial Council, for a planned launch in April 2023."
A video showcasing a satellite netting is available at this direct link.
Original story posted by ESA at their Clean Space infosite.