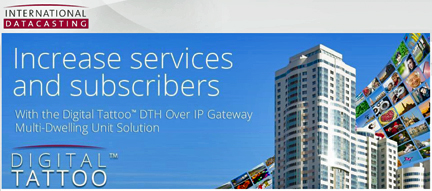 [SatNews] International Datacasting Corporation (TSX:IDC) ("IDC" or the "Company") has appointed new executives to key Company functions.
The changes include a new Chief Financial Officer and Vice President of Products, as well as a restructuring of IDC's global Sales force. The restructuring will increase IDC's responsiveness to opportunities in rapidly-growing emerging markets and position the Company for increased success in those markets.
Steven Archambault, IDC's new CFO, is a seasoned finance executive with more than 15 years experience in financial reporting and accounting, internal controls, treasury, corporate income taxes, and financial system implementations. Archambault has served as IDC's Director of Finance and Treasury since 2012, and is highly knowledgeable regarding the Company's operations. At IDC, he has led the introduction of new systems for budgeting and financial planning, and has worked with the management team to develop innovative commercial offers for customers. Archambault's experience includes service at Ernst & Young LLP as an audit manager, and more recently senior finance roles with a NYSE-listed reinsurance company. He is a Chartered Accountant in Canada and a Certified Public Accountant (Illinois) in the United States, and holds a Bachelor of Commerce (Honors) degree from the University of Ottawa. Archambault will continue to be located in Ottawa and his new role is effective immediately.
IDC's outgoing CFO, Rick Clements, will continue at IDC until January 31, 2014 in order to support a smooth transition of responsibilities. Clements will also be available to IDC on a consulting basis after his departure to provide support as required.
Steeve Huin, IDC's new Vice President of Products, joins IDC from Irdeto. Huin has extensive experience in software engineering, architecture, product management, and product marketing. Most recently, he was Irdeto's Senior Product Director, where he held responsibility for Conditional Access, overseeing a global product line serving industry leading Pay TV Operators and Broadcasters. Huin has led the introduction of innovative new products, including a highly successful software security solution for broadcast networks. He holds a Software Engineering degree from the Ecole Nationale Supérieure d'Electronique, Informatique et de Radiocommunications in Bordeaux, France and has lived and worked in France, the Netherlands, the USA, and China.
Walter Capitani, previously IDC's VP of Product Management, has been named Vice President of Marketing. Capitani's new responsibilities include strategic marketing, business development, and marketing communications. He recently coordinated a full review of IDC's strategy and product lines, and will lead the development of industry partnerships and strategic relationships. He will also assist the CEO and IDC's Board of Directors in evaluating potential opportunities for non-organic growth by IDC.
IDC also announces the reorganization of its global Sales force. IDC's Sales teams will be structured on a regional basis, allowing increased delegation of authority, faster decision making, and more effective interactions with customers, partners, and resellers. The new organization will place more emphasis on fast-growing emerging markets, which offer strong opportunities to IDC.