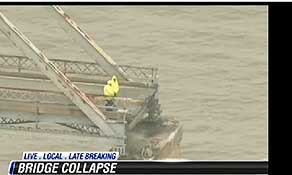 [SatNews] The concern has always been that the rocket goes up into the stratosphere... not on a ship that strikes a bridge.
..
The following is a report from United Launch Alliance.
The Delta Mariner, owned and operated by Foss Marine, made contact with the Eggner Ferry Bridge at U.S. Highway 68 and Kentucky Highway 80 over the Tennessee River Thursday evening, January 26 at 8:15 p.m. Central Time resulting in a portion of the bridge collapsing.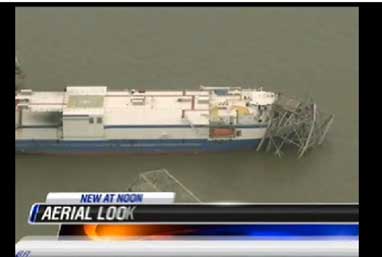 The 312-foot vessel was carrying an Atlas booster and Centaur upper stage for the Air Force's Advanced Extremely High Frequency (AEHF-2) mission
scheduled to launch in April and an interstage adapter for NASA's Radiation Belt Storm Probes (RBSP) mission scheduled to launch in August. There is no schedule impact to either launch date expected at this point.
The Mariner cargo area of the ship and the flight hardware did not experience any damage. The hardware is well instrumented and all data from these instruments is being reviewed to confirm that there were no issues.
The Coast Guard is conducting an investigation.
The Delta Mariner was commissioned in 2002 to transport flight hardware from the United Launch Alliance factory in Decatur, Alabama, to launch sites at Cape Canaveral Air Force Station, Florida, and Vandenberg Air Force Base, California.
(End of ULA's press release)
Additional information from other sources:
Kentucky Transportation Cabinet (KYTC) spokesperson Keith Todd says the two spans of the bridge have collapsed. At least one of those spans was wrapped around the bow of the ship.
When the ship hit the bridge, Todd says there were four cars on the bridge and an off duty officer about to cross. None of the cars were on the collapsed sections and no one was injured. The off duty officer quickly closed the bridge to traffic.
Keith Todd is calling it a "miracle" that there was no loss of life. The captain of the Delta Mariner also told officials there are no reported injuries among the 20 crew members on board the ship.
Transportation officials say the bridge carries approximately 2800 vehicles across Kentucky Lake-The Tennessee River in an average day.