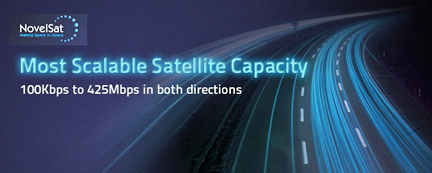 [SatNews] At IBC2014, NovelSat received orders for their newly announced NovelSat NS300 Professional Satellite Modem and welcomed a new Executive Director and Corporate VP of Sales.
As the IBC 2014 show closed last week in Amsterdam, all the pieces appeared to be falling into place for this company. Winning a prestigious CSI Award, booking orders for their new NS300 modem and dozens of successful meetings with industry executives were all part of the good news coming from NovelSat.
Last week, at a ceremony at the RAI Amsterdam during the IBC 2014 show, NovelSat won the CSI Award for Best Satellite Contribution/Distribution/Transmission Solution. The award recognized the value of their NovelSat FreeBand solution that gives DSNG and other remote satellite users free satellite bandwidth for contribution using their existing distribution bandwidth. NovelSat also introduced their new NovelSat NS300 Professional Satellite Modem at IBC. The NS300 was designed for cost-effective data transmission applications requiring up to 30Mbps. In addition to generating a lot of interest, the company has already received orders for the new NS300.
NovelSat finished up 2013 marking triple digit growth, more than doubling revenue year over year, with thousands of deployments in over 100 countries. In addition to successful satellite modems, modulators and demodulators, the company continues to develop new technologies to make satellite transmission easier and more cost-effective. This development effort will continue to pay off with new technology announcements in the coming months.
"I want to thank the people at CSI for the industry award that recognizes the hard work of the entire NovelSat team," said NovelSat CEO Itzik Wulkan. "We have an exciting year ahead with new technologies, new markets and new opportunities for growth around the globe."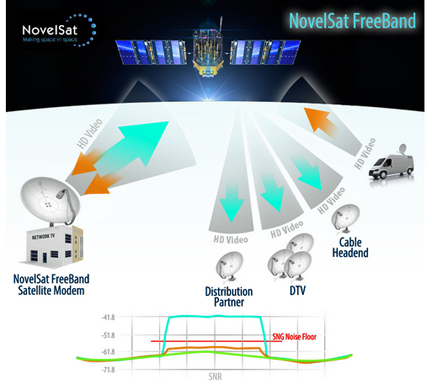 All in the same week, NovelSat also announced the addition of two seasoned satellite industry executives to the management team as part of a broader strategy aimed at accelerating the company's strategic plan. They are Oscar Glottmann, Executive Director and CMO, and Benny Glazer, Corporate Vice President of Sales; both senior management veterans in the satellite and communication industries.
"The board and I are very encouraged by the NovelSat revenue growth and the addition of two experienced business executives, a key milestone in the execution of the company's strategic plan leading NovelSat to its next growth phase and future success," said Chairman Benny Landa of Landa Ventures, the leading investor in NovelSat. "As NovelSat continues to innovate and develop new award winning technologies and partnerships in key markets, we believe the company has the ingredients to succeed."
NovelSat also plans to announce a new line of satellite transmission products that are currently in development. The company has not yet publicly disclosed the details.
For more information, please visit the NovelSat infosite http://www.novelsat.com/