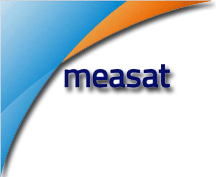 MEASAT Satellite Systems Sdn. Bhd. ("MEASAT") has expanded their video neighborhood in South Asia with the distribution of News24, Sagarmatha TV and Prime TV.
• News24 is the premium news channel of Nepal which shares ground breaking news of the region and exclusive interviews with prominent figures in Nepal.
• Sagarmatha TV is the first Nepali news broadcast channel from Nepal dedicated to keep its audiences informed of events happening in Nepal and to display Nepalese culture to the multinational communities in America and around the world.
• Prime TV one of the newest channel in Nepal is designed to serve all genres from entertainment, infotainment, news and views.
Raj Malik, SVP, Sales, MEASAT said that the addition of these channels is testimonial to the trust broadcasters place on the strength of the company's distribution via the 91.5 degrees East video hot slot, which is home to the MEASAT-3, MEASAT-3a and MEASAT3b satellites, forming one of the region's strongest video neighborhoods. From 91.5°E, MEASAT supports broadcasters and DTH operators to distribute UHD, HD and SD channels to audiences across Asia, Australia, East Africa and South Eastern Europe.